iPhone 2.1 Firmware Now Available [Updated]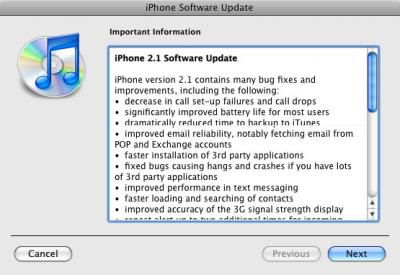 As promised, Apple has released the iPhone 2.1 firmware through iTunes this morning. The iPhone 2.1 firmware contains the following updates as listed by Apple:
- decrease in call set-up failures and call drops
- significantly improve battery life for most users
- dramatically reduced time to backup to iTunes
- improve email reliability, notably fetching email from POP and Exchange accounts
- faster installation of 3rd party applications
- fixed bugs causing hangs and crashes if you have lots of 3rd party applications
- improved performance in text messaging
- faster loading and searching of contacts
- improved accuracy of the 3G signal strength display
- repeat alert up to two additional times for incoming text messages
- option to wipe data after ten failed passcode attempts
- Genius playlist creation
The 2.1 firmware is build 5F136 and can be directly downloaded through iTunes. The new firmware also contains a number of security fixes including the well publicized passcode flaw.
Update: Users report that Netshare still works.