Let's Rock: Live Coverage Options and Discussion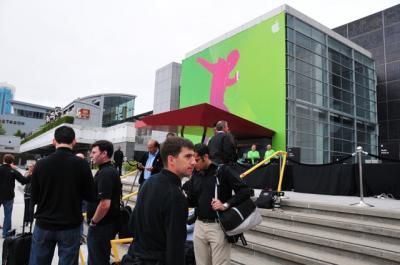 Image from
Gizmodo
Apple's Let's Rock event kicks off shortly. Live coverage will be provided at the following links:
- Gizmodo
- Engadget
- ArsTechnica
- Macworld
- Fortune
- Slashgear
- AlleyInsider
- iLounge
MacRumorsLive.com will return for Macworld San Francisco 2009 in January.
Some last minute notes and links:
- Apple Stores are down
- New Interface? for the iPod Nano
- New Nanos to have accelerometer? "One of those people described a function by which the iPod's 'shuffle' function is invoked when a user physically shakes the player."
We'll post major updates here at MacRumors.com.
- Our forums will remain open for ongoing discussion.
- SMS updates will be provided through Twitter.com/MacRumors (instructions).
- Visit TouchArcade.com for iPhone and iPod touch gaming news and reviews.
Notes and Highlights
- Jobs takes stage. "reports of my death are greatly exaggerated". New for iTunes: HD TV shows. $1.99 for SD. $2.99 for HD.
- NBC returns to iTunes: Office, Monk, Heroes etc... both HD and SD. iTunes 8 today: HD TV shows, accessibility, genius playlist, grid view.
- Genius: create playlists from songs in your library that go great together. Also personal recs from iTunes Store. Optional and private.
- iTunes 8 avail today. Free download. Moving on to iPod. 120GB Classic to replace 80GB and 160GB. New Nano. Similar to leaked images.
- Nano: thinnest ipod ever. enhanced interface. accelerometer. genius playlist within nano. aluminum w/ curved glass. shake ipod to shuffle.
- battery: 24hr music, 4hr video. environmentally safer. 8 colors. $149/8GB. $199/16GB. new $29 headphones w/ volume, next button, microphone.
- iPodTouch: Thinner, Stainless steel, Volume controls + speaker. genius playlist. Nike+iPod receiver built in. Demoing app store again. Including Spore Origins, Real Soccer 2009, and Need for Speed. (Gameplay video of Real Soccer 2009 available on TouchArcade)
- iPodTouch: battery 36hrs/music, 6hrs/video. 8GB/$229. 16GB/$299. 32GB/$399. 2.1 upgrade. free to iPodtouch 2.0 owners. "funnest iPod ever"
- iPhone 2.1 Upgrade: This friday. significantly better battery, fewer call drops, bug fixes, faster backups to itunes, no app crashes. Free.
- That seems to be it.