Google to Launch Webkit Based Web Browser Called 'Chrome' [Available]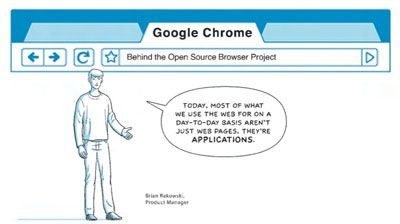 Google
announced today
that they would be releasing a new open source web browser called Google Chrome. The new browser will be available for download as a beta starting tomorrow.
Google states that the reason for a new web browser is that the company believes that it "can add value for users and, at the same time, help drive innovation on the web." The new browser is said to be "streamlined and simple" and "clean and fast". The underlying rendering engine is based on Webkit which is also used by Apple's Safari.
Other features were revealed in a comic book that detailed the new browser. Features include:
- New JavaScript engine called V8 for faster performance
- "Special tabs" above the window, not below the address bar (see image above)
- Address bar auto-completion
- Opera-like "Speed Dial" with thumbnails of your most visited 9 websites
- Privacy mode
- Web apps can be launched in their own window without addressbar/toolbar
The entire comic book is published at AllThingsD.com.
The browser will initially be offered for Windows only, but Mac and Linux versions are on the way. A screenshot shows the Windows version of the browser.
Update: Google's site http://www.google.com/chrome is now active and available for Windows.