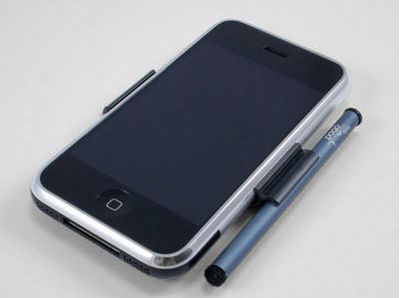 Pogo Stylus
Macenstein took the time to review two iPhone styluses that are available for the iPhone: iPhone Japanese Touch Stylus ($14.99) and the Pogo iPhone Stylus ($19.99). For the purpose of the review, Macenstein used the styluses as an artists tool for iPhone apps like Flipbook [App Store] and Kineo (formerly Flickbook) [App Store].
While the Japanese Touch Stylus wins points for aesthetics, Macinestein found its unique flexible tip to be a difficult to use.
Drawing with this stylus was a definite chore, as the entire flat surface of the tip must be firmly pressed against the screen in order for the iPhone to register it. I had hoped the angled tip might provide enough contact when drawing to give more of a feel of a real pen, but unless you keep this stylus angled flat to the surface, it will not register.
Meanwhile, the Pogo iPhone stylus is described as "far batter" in overall usability and accuracy:
Despite the tip of the stylus being somewhat rounded and soft, I found I was able to get much more accurate line placement that I thought I would.
More details in the full review.