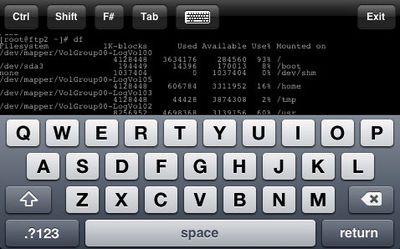 There's been an influx of SSH clients coming out for the iPhone, but the one many have been waiting for has just arrived.
Zingersoft's
iSSH [$4.99,
App Store
] client was released to the App Store last night.
iSSH is a VT100, VT102, VT220, ANSI, xterm, and xterm-color terminal emulator over SSH and provides the following features:
- Portrait and landscape mode
- 60x24 in portait mode, 80x24 in landscape mode
- Scroll-back buffer (by swiping in right 1/3rd of screen)
- Arrow keys (by swiping in left 2/3rd of screen).
- Ctrl, tab, shift, and Fn keys, all in combination.
- Store any number of connections and configurations
- Command execution on connection
- Can dismiss keyboard by tapping keyboard icon
- Via EDGE, WiFi or 3G
Due to the influx of SSH apps, the developer reports he temporarily cut some features to deliver this build earlier.
I created a build I considered stable, not feature-packed. That means no X Server or multiple connections. Neither are quite ready yet. Just the same, what Apple had submitted to them has exactly what you have seen in the screenshots. Landscape and portrait, a keyboard that's removable in landscape mode; scrollback via swiping; arrow keys via swipping; crtl, Fn, tab and shift (and combinations there-in) as well as a command on connection.
The developer promises that the 1.1 build was submitted last night and should include the following features:
- Key generation storage and exchange
- Additional keys in landscape mode, specifically "ESC" and "|"
- Multiple concurrent connections
- Active connection list
- Option to store password and server port
- Misc bug fixes
Unlike the other SSH clients, iSSH is also available internationally. iSSH is available in the App Store.