App Store: Apps Available for Download on iTunes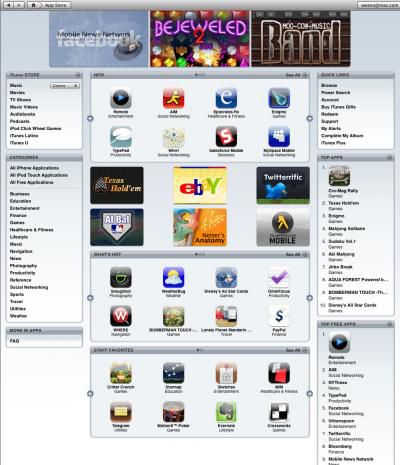 Apps have already appeared in the iTunes App Store and can be found and downloaded by searching for their names. AOL's AIM Application (iTunes Link), for example, is available as a free download.
Apple's free Remote Application (iTunes Link) is also available and allows you to "control the music on your computer or Apple TV from your iPod touch or iPhone. Play, pause, skip, shuffle. See your songs, playlists, and album art on your iPod touch or iPhone as if you were right in front of your computer. Remote works with your Wi-Fi network, so you can control playback from anywhere in and around your home."
Over 500 applications are on the iTunes App Store at launch. The App Store is not directly accessible from iTunes at this time. We've compiled a collection of iTunes links to let you browse through them. You will need to use iTunes 7.7 which was released tonight.
iTunes Links
- Top Apps
- Top Free Apps
- Other categories: Business, Education, Entertainment, Finance, Games, Healthcare & Fitness, Lifestyle, Music, Navigation, News, Photography, Productivity, Reference, Sports, Travel, Utilities, Weather
- Most Expensive App: ForeFlight Mobile - $69.99
- Notable Apps: Super Monkey Ball, Aqua Forest (demo video), Bomberman Touch (demo video), Chopper, ePocrates, Exposure, Facebook
We've started a new forum: iPhone App Store Forum to handle additional questions and discussion about the App Store.
Notes: App Store working with 2.0 Firmware. Background notifications not yet working. Apple had promised this to be coming in September. For now, AOL's AIM application only shows new messages after you relaunch the application.