Patents Reveal Ongoing Touch and Multi-Touch Research
The United States Patent and Trademark Office revealed at least a dozen new patent applications from Apple this morning. The majority of the applications revealed ongoing multi-touch research by Wayne Westerman, the former cofounder of Fingerworks.
We've seen many exciting multi-touch patent applications from Apple over the past few years including screenshots of a Mac OS X implemenation of advanced multi-touch gesturing.
Today's patent applications cover ongoing research in refining the touch experience by avoiding unintentional contact and advancing the hardware technology itself, but a few interesting tidbits were also found.
One patent application titled "Gesture Learning" describes methods to teach these advanced gestures to users. Many readers have been concerned that previously depicted gestures for advanced multi-touch applications may be too hard to learn. In order to combat this hurdle, Apple is researching the use of visible feedback such as animated motion trails and/or hand motions as well as interactive games to teach users these gestures.
Another interesting possibility raised is the use of both capacitance (finger tip) and resistance (fingernail) to provide secondary functionality in future touch screens. The iPhone introduced a multi-touch capacitance based screen that allowed it to recognize bare finger touches only. This means that the iPhone will not respond to fingernails, gloved fingers touches or a standard stylus.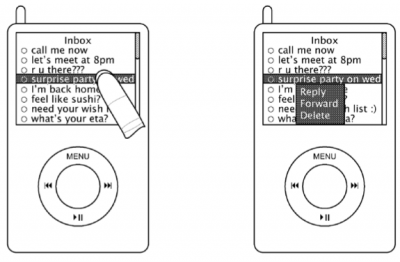 Apple suggests the addition of pressure sensitivity to provide additional functionality. For example, touching an item in a list with your fingertip would select it, while pressing it with your fingernail (or otherwise shielded finger or stylus) could bring up a pop-up menu (see picture above). Another interesting possibility would be the ability to add text-selection and copy/paste functionality. In an email, for example, while swiping with your fingertip would scroll the screen, using your fingertip or stylus could invoke text selection.
Unfortunately, we'll have to wait for a future Apple device to take advantage of these features as the current iPhone is not capable of this functionality.