Stephen Colbert got a free iPhone from Apple once, but will he be able to get it twice? The Comedy Central comedian made the "plea" this past Tuesday on The Colbert Report (viewable via Comedy Central website).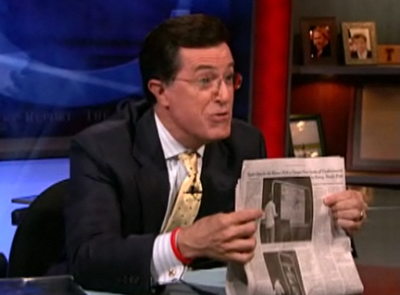 But then yesterday not only does Apple come out with a new iPhone that's $200 cheaper and 3x faster, it's also HUGE! I thought it was a status symbol to pull out an iPhone from my pocket, but that's nothing compared to pulling one out of your U-Haul! Send me a new giant iPhone, Apple, or I will do all my future computing on John Hodgman.
Interestingly enough, Colbert later demonstrates that his mastery of his current iPhone is similar to the level of that of aforementioned Hodgman when he uses his iPhone upside down. Hodgman had also demonstrated this "ability" in a previous episode of The Daily Show with Jon Stewart.