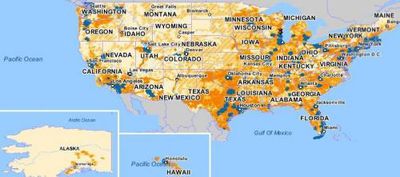 Map from
TUAW
, click for larger. Deep blue is 3G coverage.
AT&T
provides a tool
to let you know if you are in an area that receives 3G service. At the moment, 3G service is focused on major metropolitan areas. Fortunately, the iPhone 3G falls back to EDGE (2.5G) service if outside a 3G area.
Unfortunately, however, if you buy an iPhone 3G, you must purchase the 3G ($30/month) data plan even if you live outside 3G areas. According to Mark Siegel, Executive Director of Media Relations with AT&T Mobility, there is only one price for the data service, and that's presumably $30/month.
Where available, 3G provides much faster data (web, email, downloads) service over the 2.5G network which was built into the first generation iPhone.