Larger or Smaller Touchscreen Device from Apple?
As reported by AppleInsider, American Technology Research analyst Shaw Wu informed clients that he believed there is a 50-50 chance that Apple would introduce new form factor multi-touch devices at WWDC next week.
Our sources indicate 4-inch and 7-inch touchscreen devices beyond prototype stage that are a cross between a Mac and iPod touch.
Of course, Wu says the exact timing may change. This simply adds to existing rumors that Apple is working on a mini-tablet or Newton-like device. Of note, Intel did officially introduce its low-power Atom processor this week. The Atom processor has been rumored to be under consideration by Apple for use in an upcoming mini-tablet device.
Meanwhile, TUAW claims that Apple will release Mac OS X 10.5.4 in mid June, only weeks behind 10.5.3 in order to support Mobile Me as well as a new piece of Apple hardware. Such a quick release for another version of Mac OS X would be unprecedented, though TUAW claims the news came from a "reliable" source. Of course, Apple has already started seeding versions of Mac OS X 10.5.4 as of yesterday.
Finally, iLounge publishes photos of what is claimed to be photos of new 3.2" and 2.8" screens to be used in future iPhones.
the first pictures and diagrams of a touchscreen display that a Taiwanese company claims is being used in an upcoming iPhone. Its a 2.8 displayshown here alongside a newer 3.2 versiontwo sizes that would enable Apple to start shrinking both iPhones and touchscreen iPods from the current 3.5 screen size found in its first-generation models.
Despite the photos, iLounge believes there is "zero chance" that the smaller 2.8" screen would be used in the 3G iPhone expected next week, but considers the possibility that Apple may introduce new form factors in the future.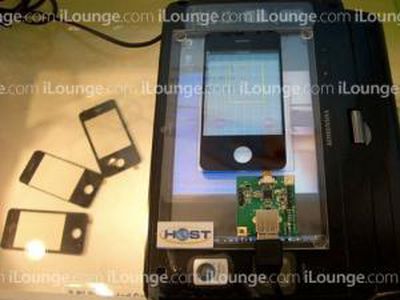 WWDC kicks off on Monday, June 9th. MacRumors.com will be providing live coverage of the keynote speech.