Hints at iPod Touch Price Drop?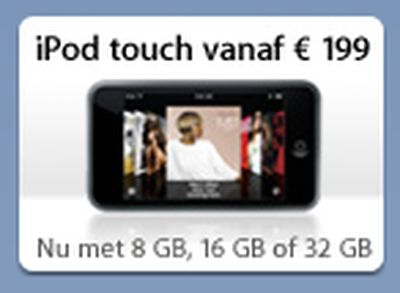 Apple's Dutch iTunes store is running an ad that shows the iPod touch, starting at only 199 euro. This represents a 80 euro difference from the official price of the iPod touch which starts at 279 euro.
Yooph.nl
speculates that this could be a premature leak akin to
Swiss Apple Store
Airport Express specs. Indeed, none of the other iPods in the same store start at 199 euro, making it less likely to be a simple substitution error.
To further add to this being a true leak, we had heard rumors that both the iPod Touch and iPhone would be seeing US $100 price drops in the coming months -- though, those rumors also suggested Apple would the eliminate of the 8GB model, which is still listed in the ad.
The iPod Touch currently costs US $299 for 8GB, US $399 for 16GB and US $499 for 32GB.