Future iPhone To Use Intel Moorestown Platform? [Updated]
The Inquirer posts what it claims is more evidence that Apple is planning to adopt Intel's Moorestown architecture for a future iPhone model.
DigiTimes was first to make such a claim in October 2007 citing the usual "OEM sources." The Inquirer now posts a slide from Intel's CeBIT presentation which depicts the iPhone as a Moorestown smartphone.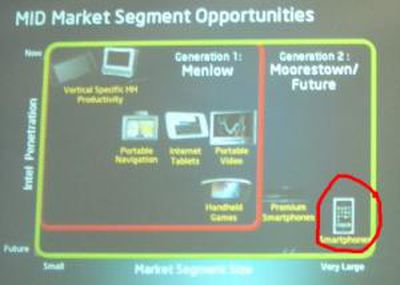 Image courtesy of The Inquirer
Of course, the use of the iPhone to represent smartphones may not mean anything, as the iPhone is currently one of the hottest-selling smartphones on the market. However the image does corroborate DigiTimes' previous claims.
The Moorestown platform is the successor to the Menlow platform due later this year. Both are based around the Intel Atom processor, which Intel expects to launch a new class of mobile internet devices. Moorestown is not expected until 2009, so its use would likely be for the third or later iteration of the iPhone, but could also find its way into the rumored Apple mini-tablet.
Update: Recent analysis by Anandtech suggests that Intel's Atom's processors (and therefore Moorestown) may not be headed to the iPhone until at least 2010.