Purple iPod Nano Inbound?
Readers report that this week's Circuit City Ad (page 20) is advertising a purple iPod nano.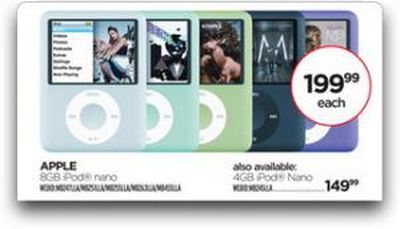 Apple's current line of iPod nanos come in silver, blue, green, black, pink, and (PRODUCT) RED. The obvious suggestion is that Apple is set to release a purple iPod nano. However, note that mousing over the photo reveals the current iPod nano lineup, increasing the possibility that the advert simply has profound mistakes. The photo also appears extremely similar to Apple's stock gallery imagery.

The addition of a purple option to the iPod nano would make the iPod Shuffle lineup a complete subset of the iPod nano colors. Currently, the purple depicted in the ad is available on the iPod Shuffle but not available on the iPod nano, whereas the iPod nano has the additional options of black and pink (recently added) that are not available on the iPod shuffle.