iPod Touch Ad: 'What I'm Looking For'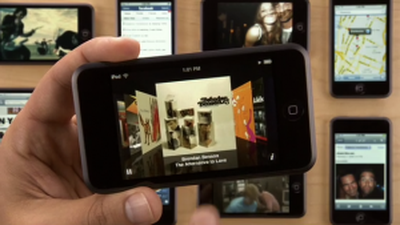 Apple broadcast a new iPod touch advertisement during
American Idol
last night. The new advertisement features a table full of iPod touches showing off various features including Photos, Cover Flow, Weather, Notes, Web Browsing, Mail and Video playback.
Brendan Benson is the latest artist to benefit from exposure in an Apple television commercial with their song, What I'm Looking For (iTunes link). Compete reports that almost 1 million searches for iPod commercials and their songs were conducted from August 2007 to January 2008. Though briefly, Apple actually shows the artist name and song being played in this commercial on one of the iPod Touch's screens.
Apple has posted the new ad in Quicktime format and is also available on YouTube.