Apple Releases Apple TV 'Take 2' Update [Updated]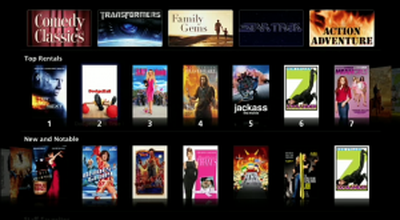 Apple has released the Take 2 update for the
Apple TV
today. The software update is available for download from your Apple TV itself. The free software update allows Apple TV owners to rent movies without the use of a computer in standard and high definition formats. Library titles cost $2.99 and new releases are $3.99. High definition versions add $1 to the price of rental. Movies can be kept for 30 days, but expire within 24 hours of playback.
Apple provides a guided tour of the new features of Apple TV.

Now that some readers have installed the latest Apple TV update, here are some interesting notes plucked from the discussion thread.
- New startup video when booting Apple TV (Youtube video)
- Apple TV can now be used with AirTunes, replicating Airport Express behavior. Will also stream Title, and Album cover. You can also control the iTunes music via the Apple TV (with the remote). Also supports streaming radio.
- Login to Youtube now supported, with subscriptions and favorites
- Fastforward and rewind performance has been improved
- You still need a TV that can accept Component or HDMI
- Anecdotal reports of better decoding performance.
- 1080p signal output, but max resolution Apple TV can display is still 720p
- Apple TV Setup Manual (PDF) posted.
- The Apple TV hardware remains the same. This is a software upgrade only.
- HD Movie Previews not necessarily representative of rental quality. (link)
Further discussion in our Apple TV forum.