Unboxing Video of MacBook Air, More Notes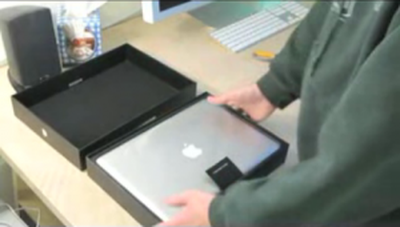 Unboxing Video
- MacRumors forum member
desenso
posts a
complete unboxing video
of the new MacBook Air.
-
Macworld posts
their review of the MacBook Air and makes an interesting point about the seemingly small weight difference that makes the MacBook Air appealing:
One reason I loved the 12-inch PowerBook G4 was that it crossed some hard-to-define weight barrier, one I hadnt even been aware of until I started using a laptop that crossed it. The 12-inch PowerBook was so small and light that carrying my laptop around with me became an afterthought. Instead of lugging a 15-inch PowerBook from place to place, I could idly hold the 12-inch model in one hand. The MacBook Air takes that easy feeling to an extreme
- The MacBook Airs were reportedly pulled from the 5th Avenue NYC Apple Store for now. They will likely return on Friday which is the official retail launch of the MacBook Air. Video of MacBook Airs at 5th Ave store.
- For those who are need to fit their applications into their 64GB or 80GB MacBook Air might find some use in the Xslimmer application that was included in a recent software bundle. Xslimmer strips down applications to reduce file size but does not impact functionality. Update: Trimmit is a free alternative.
- The custom Intel CPU that powers the MacBook Air may be coming to PCs.
- Gizmodo reposted the MacBook Air tear down photos and video.
Ongoing discussion in our MacBook Air forum.