New Apple Website Feature: Find Out How
Apple has added to its website with a new subsection dedicated to video tutorials called "find out how." The section includes video tutorials for Mac OS X, Photos, Movies, Web, Music, and Documents.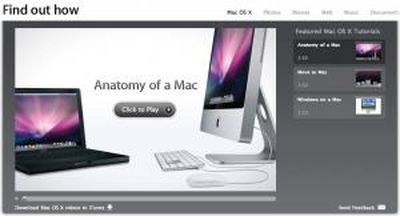 In all, over 30 short tutorial videos are presented along with many additional text tutorials. The videos present an addition to Apple's guided tours of Mac OS X Leopard and iLife 08. Similarly, Apple posted a guided tour for the iPhone even before its launch, which in turn helped early adopters become experts with the device.
Most of the tutorials seem to be mainly aimed at the beginning Mac user, so questions not immediately answered by Apple's site may be more satisfactorily answered in our Guides or Forums.