MacBook Airs have Arrived, Early Notes, Benchmarks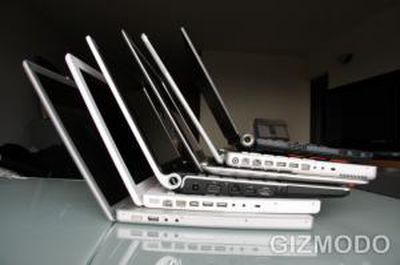 First review MacBook Airs have arrived (80GB, HDD, 1.6GHz):
Gizmodo
,
Engadget
,
Macworld
Some early notes:
- Wireless Remote disk details: can't play DVD media, can't burn a CD, can't listen to a music CD,
- The Novatel U727 (3G USB modem) won't fit in the MacBook Air without a USB extender.
- MacBook Air's MagSafe charger works in the MacBook/MacBook Pro and vice-versa but the regular MagSafe won't stay attached to the Air when it is sitting flat on a desk.
- Size comparison between MacBook Air and other laptops.
- Engadget provides some Xbench 1.3 benchmarks of the MacBook Air compared to a MacBook, MacBook Pro, and iMac, though with a mismatch of configurations. Unsurprisingly, the MacBook Air came in at the lowest speeds amongst the machines tested.
- Gizmodo provides some "real world" benchmarks in comparison with a MacBook (2GHz) and MacBook Pro (2.2GHz), and finds the performance of the MacBook Air to not be far off from the previous generation (2GHz) MacBook.