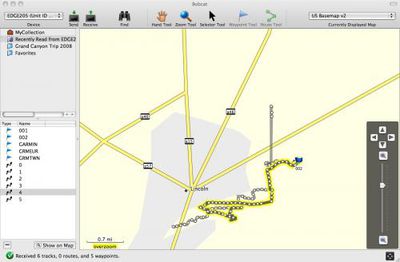 After dropping hints at the launch of a new Mac product in the days before the keynote, Garmin announced the release of
Project Bobcat version 2.0.0.0
The beta software allows Mac users to interface with their existing Garmin GPS devices.
- Bobcat allows you to transfer waypoints, tracks, and routes between your Mac and Garmin device and manage your data using your Garmin maps.
- Bobcat provides the ability to search for points of interest from the convenience of your Mac and then send the locations to your Garmin GPS.
- Bobcat also serves as a backup tool for your Garmin GPS. You can receive all your waypoints, routes, and tracks from your GPS and Bobcat will save them automatically.
- MapManager copies maps and unlock codes into the right place to be accessible by Bobcat and MapInstall.