Apple Creating iMac-like Docking Station
A patent application submitted in 2006 and published for the first time today has revealed that Apple is working on a docking station for portable computers, the exterior of which closely resembles Apple's iMac line of desktop computers.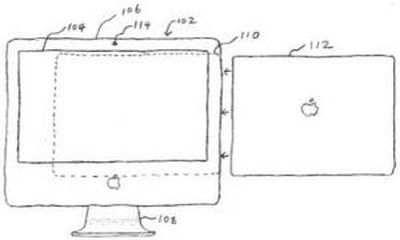 A docking station is disclosed. The docking station includes a display and a housing configured to hold the display in a manner that exposes a viewing surface of the display to view. The housing defines a docking area configured to receive a portable computer; The docking area is at least partly obscured by the display when viewed from the viewing surface side of the display at an angle substantially orthogonal to the viewing surface.
Apple argues that its docking station concept is superior in that it requires less desk space due to its vertical orientation. It is also simpler, as the display is integrated and wireless network technologies will be employed for communication between the dock and the portable.
There has been some speculation around the internet that the patent could be tied to the rumored Apple ultra-portable. While the timing of the publication is interesting, the application itself remains generic in nature, and appears to be applicable to any notebook computer.
Raw Data: Patent Application #20080002350