Apple Developing Mini CD/DVD-ROM Adapter For Slot Loading Drives
Apple has issued a patent application for an adapter to convert mini CD/DVD-ROMs to standard 12 cm size for use in slot-loading drives found on many of Apple's computer models.
Apple points out that the use of reduced-size media when possible would reduce shipping, manufacturing, and packaging costs. However, such media cannot be played in slot-loading drives that are designed to only accept standard-sized 12 cm media.
As a solution, Apple presents an adapter that would fit around reduced-sized media, making the media work as if it were standard 12 cm media in slot-loading devices.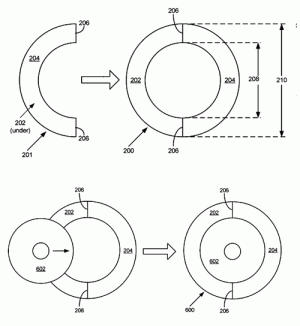 The patent application, which was first published last Thursday, was filed in May of 2006 and was brought to light today by AppleInsider.
Raw Data: Patent Application #20070271577