European iPhone Launches (Germany + UK) [Updatedx2]
Today, Apple launched the iPhone in select European countries.
Germany was the first to receive the iPhone via T-Mobile. One Flickr user photo-documented the launch.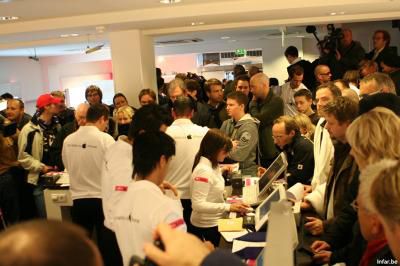 Courtesy Flickr user iFun
Our iPhone Purchaser Meetups forum has been active with the Germany launch and the U.K. launch. Users at various stores report numbers "in the hundreds" coming to the event. Forum member Sneeks notes that a webcam is available showing near-live shots of the Birmingham store.
The iPhone launched in the U.K. at 6:02 pm London time at Apple, Carphone Warehouse & O2 stores, and online on the U.K. Apple Store and Carphone Warehouse's online store.
Update: T-Mobile has announced that it has sold more than 10,000 iPhones so far in the first day of sales.
Update 2: Users are posting pictures from the U.K. launches. Here's one from forum member SpinDrift.

Continuing reports are occurring in our iPhone Purchaser Meetups forum.