Leopard Now Shipping with New Macs, Drop Ins at Retail
Perhaps it goes without saying, but Apple has updated their product pages (iMac, MacBook, MacBook Pro, Mac mini) indicating that Mac OS X Leopard is now shipping with new Macs. All desktop images on Apple.com now use the new Leopard desktop background. Curiously, the Mac Pro is the only product page that does not explicitly say that it is now shipping with Leopard, though we assume it does.
Meanwhile, customers who buy Macs directly from retail Apple Stores may receive a "Drop In" Leopard DVD with purchases of Macs until the old inventory turns-over. These Drop In DVDs will reportedly only upgrade an existing Mac OS X 10.4 install. You also don't get the pretty packaging of the Retail box.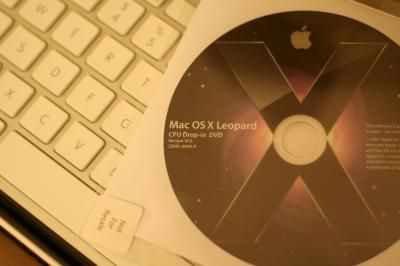 This shouldn't necessarily be the signal to buy a new Mac, however, as both the Mac Pro and the MacBook have been rumored to see updates as soon as November.
Intel has started ramping up production of the new Penryn processor at their first 45-nm fab. The Penryn processor will launch on November 12th and is rumored to be used in the next revision of the Mac Pro, expected shortly.