Apple's 3rd Quarter 2007 U.S. Marketshare Up to 8.1%
According to the latest numbers from Gartner, worldwide computer shipments increased 14.4% over the same period last year. In the U.S., computer shipments increased 4.7% over the same period last year.
In comparison, Apple has seen a 37.2% increase in growth over the same period. As a result, Apple's individual marketshare has grown from 6.2% to 8.1% year-over-year. This places Apple in 3rd place in U.S. marketshare, trailing Dell (29.1%) and HP (25.7%).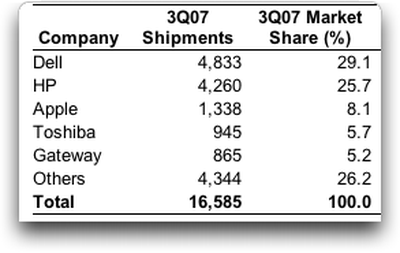 Gartner had previously pegged Apple with a 5% U.S. marketshare (ranked 5th) during the 1st quarter of 2007, while Apple did not rank amongst the top 5 U.S. manufacturers in Q2 2007.
Raw Data: Gartner Press Release