Mac OS X 10.5 Leopard: Dock 1.6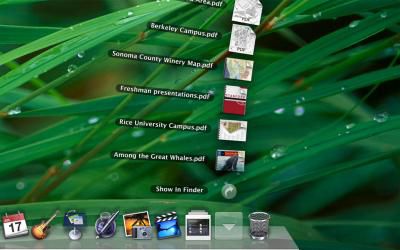 Appleinsider provides another look at the most recent developer's build of Leopard with a focus on the history and improvements in the Finder's Dock.
It's therefore notable that Leopard sports an entirely new Dock appearance, which now presents its icons as three dimensional objects sitting on a translucent glass shelf, rather than flat objects stuck in a translucent ribbon of icon flypaper. Dock icons now cast a reflection on the Dock (as do other windows on the screen, and even the background image), as well as casting a shadow behind them. The combination of the reflection and the shadow contribute to their dimensional appearance.
Leopard's new dock functionality is perhaps most efficiently explained in Apple's demo video (Quicktime) of the Dock and Finder. Further description and photos available at at Apple.
Mac OS X Leopard is reportedly approaching Gold Master status. According to the most recent checks, Apple had 11 high priority bugs left. Apple has previously announced that they intend to ship Leopard in October.