Microsoft Announces 2nd Generation Zune Music Player
Microsoft announced three new models of its Zune music player on Tuesday. The new models mirror Apple's iPod Nano and iPod lines by introducing a flash-based 4GB/8GB at $149 and $199 along with a larger 80GB hard-drive based model at $249. The previous 30GB Zune will continue to be sold at $199.99, and receive a software update bringing it up to par with the new Zune features.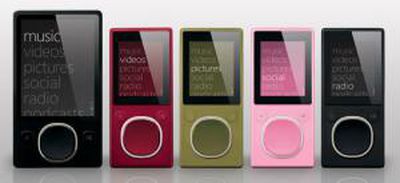 All Zunes feature Wi-Fi connectivity for sharing songs as well as automatic wireless syncing to PCs. Over the air purchasing, however, is not presently available on the new Zunes. Other features include a touch-sensitive navigation button allowing users to slide their finger up/down/left/right to navigate around the screen.
In addition, Microsoft also announced that they would be selling more than 1 million songs in DRM-free MP3 format. They've also introduced podcasts and music videos selections. Wired's hands on with the units also describe a new social networking site called Zune Social which compiles a list songs you play on your PC or Zune so friends can see what you are listening to.
Microsoft has reportedly sold 1.2 million Zunes since its launch in November 2006. The new Zunes are expected to ship in November 2007, but provide no Mac OS X support.
Other Notes:
- Wireless sharing ("squirting") now only limited to 3 plays (previously limited to 3 plays or 3 days, whichever came first)
- You can now share a song that's been shared to you.
- Supports h.264 and MPEG4 video
- FM Tuner
- Syncs with Windows Media Center (Can copy TV shows from the PVR)
- Flash version: 1.8" Screen (Zune) vs 2.0" Screen (Nano)
- HD version: 3.2" Screen (Zune) vs 2.5" Screen (iPod Classic)
- No more Brown color option