Cases for New iPod Nano?
iLounge points to new cases from Uniea which appear to be a case for the rumored iPod Nano.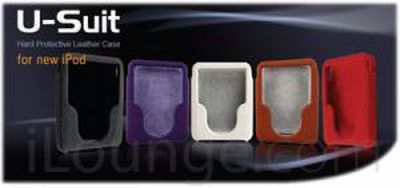 The case, described as the U-Suit Hard Protective Leather Case for New iPod, features a soft leather exterior, hard plastic interior with scratch-resistant inner lining, and a front hole sized for a roughly 2.3-inch screen and iPod nano-sized Click Wheel.
Photos of the upcoming iPod Nano were leaked and later pulled at the request of Apple, and are expected to make their debut at Apple's September 5th media event.