iPhoneAlley announced
the release of iFuntastic 3.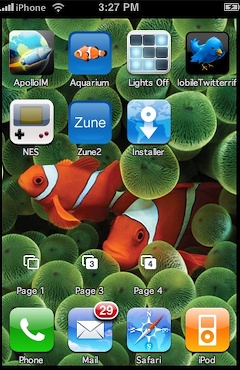 Sample screen of a moded iPhone
The iPhone hacking software has undergone a major upgrade and now features support for PowerPC Macs. Other features include:
- "Unshackling" opens your iPhone to updates and preserves iTunes syncing
- Rearrange icons on your iPhone
- Multiple Home Screens
- Backgrounds on the Home Screen.
- File Browser
- Drag and Drop install of applications