Ultra-Portable Mac Connector System?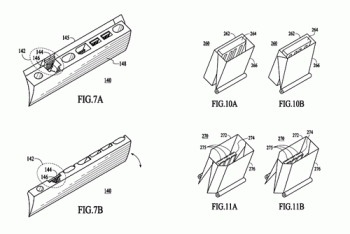 Appleinsider points to a a patent application as a possible connector design for the rumored ultra-portable Apple laptop.
Apple explains that "as notebook computers are becoming increasingly thinner ... connections systems need to be reduced in size to accommodate smaller form factors."
One limiting factor, however, that prevents further size reduction is the actual size of the largest connector port (such as the Ethernet port, or Firewire port). To work around this limitation, Apple has proposed to essentially create collapsible ports housed in a "connection system" that you can open and close. In the closed position, the ports collapse to a smaller size, allowing the entire form factor of the computer to be thinner. When open, the ports expand to their full size.
Accordingly, this collapsing function enables a substantial reduction in the size of the connection system and thereby enables a substantial reduction in the form factor of a device implementing the connection system"
The patent application was first filed back in September of 2005, so may or may not find its way into a future Apple product, but Appleinsider has been expecting an "ultra-portable" Apple laptop later this year or early next.