Lights Off: First Native iPhone Game
Lucas Newman and Adam Betts have released the first native iPhone game called Lights Off.
Lights Off is a fun and highly addictive puzzle game made even better with iPhones touch screen, created by Lucas Newman and Adam Betts.
The objective is to switch all of the lights out. Tapping a light toggles it, along with the four adjacent lights. Once you switch all of the lights out, you'll advance to the next level!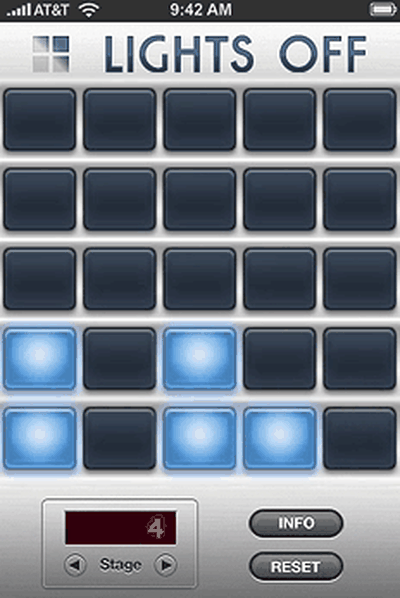 Lights Off took 2nd place in the C4 Iron Coder competition behind the Video Conferencing application for the iPhone.
As a native application, you must download the package and install it using existing "jailbreak" tools to gain access to the iPhone's file system. Installation instructions are provided.
Lights Off was developed completely with Apple's UIKit development framework, the same used to make iPhone's built-in applications such as Maps and YouTube. It leverages the community-built tools that have been developed with the absence of an official iPhone SDK.
Video demo of game available here.