Wide (Multitouch?) Touchpad for Apple Laptops
Apple filed for a continuation on a 2004 patent about a "wide touchpad" for a laptop.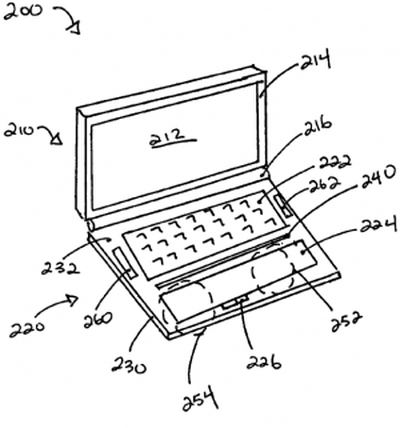 The patent application, however, now gets an interesting perspective with the recent interest in multi-touch technology and the Multitouch dictionary described last week.
Apple notes in the patent application that as notebook screens become larger, there tends to be a larger space on the bottom half of the housing. Typically the trackpad is placed in the center to avoid unintentional taps and to provide space for palm rests.
They propose implementing an enlarged or wide touchpad which "may be a cursor control device having the capabilities of conventional computer mouse devices, such as the ability to point, drag, tap, and double tap objects on a graphical user interface, as well as more general purposes such as scrolling, panning, zooming, and rotating images on display screen."
The touchpad would be located in the area normally reserved for the palm rests and be intelligent enough to ignore unintentional contact (when being used as a palm rest).
Fingerworks, the multi-touch company that Apple bought in 2005, offered several multi-touch gesture pads and input devices before they ceased operations.
When questioned about the possibility of a multi-touch Mac, Jobs replied that it "doesn't make a lot of sense right now on the Mac" and they'd classify it as a "research project".