Apple's U.S. Marketshare Up to 5.6%
IDC released marketshare numbers for the top U.S. and worldwide computer brands.
Apple's 2nd Quarter 2007 U.S. marketshare was up to 5.6% of U.S. shipments. This tied Apple in 3rd place with Gateway for U.S. marketshare for this quarter. Dell and HP were well ahead at 28.4% and 23.6% respectively. Apple did not rank in the top 5 vendors for worldwide sales.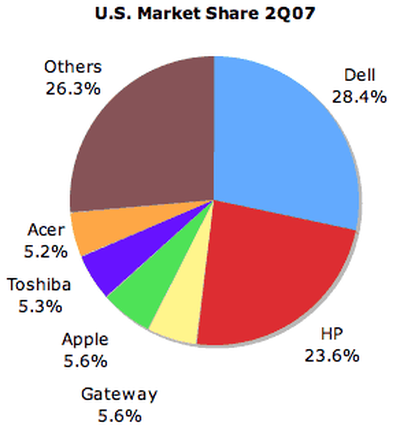 The 5.6% U.S. marketshare represents an increase from 4.8% in the year-ago (2006) quarter, which was an increase from 4.4% in the Q2 2005 quarter.
The U.S. market grew by 7.2% while Apple's sales grew 26.1% from the year ago quarter.