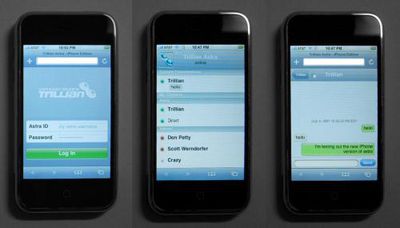 The Trillian team has been working on an iPhone version of Trillian:
Currently the contact list and message windows are up and running. You can see the status of your contacts they update. You can send and receive messages in real-time, as long as your browser window is open. There is no need to move Windows (what a backward concept! ) around on the phone, as everything is compact and fit tight to the screen. This beauty is completed with a smooth and true-to-the-pixel user interface done right. This interface of Trillian Astra is designed for iPhone; it doesnt just happen to work with it.
Trillian is a popular chat client that supports AIM, ICQ, MSN, Yahoo Messenger and IRC. The iPhone version is accepting applications for testing.