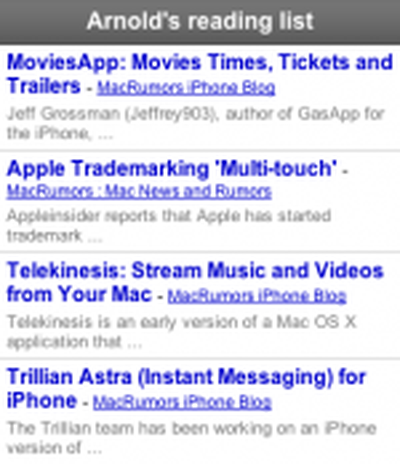 While the iPhone's Safari will read basic RSS feeds, the lack of a RSS feed organizer makes it a difficult tool to use.
Fortunately, Google's Reader service is optimized for the iPhone (and other mobile devices). Visiting the standard url http://www.google.com/reader/ from your iPhone will take you to the mobile version of the site.
If you don't have a Reader account setup, you need to do so through your desktop/laptop computer. The mobile version of Reader is read-only, and does not allow you to manage your subscriptions. Each RSS story is listed in reverse chronological order and links to the RSS summary. If you want to visit the full article, Google's Reader automatically compresses it into a "mobile friendly" version which strips out much of the extra markup.
If you're interested in an iPhone RSS reader that allows you to manage your RSS feeds on the go, stay tuned, as there's at least one in development and in limited testing.
Our RSS Feeds:


MacRumors iPhone Blog



MacRumors.com



MacRumors Page 2