Apple Worth More Than $100 Billion [Update: Apple Joins S&P 100]
Apple, Inc's worth climbed to above $100 billion today in heavy trading. The company is now worth approximately double rival computer maker Dell's market cap ($59.4 billion), but still trails behemoth Microsoft by a hefty margin, whose worth sits at $294.94 billion.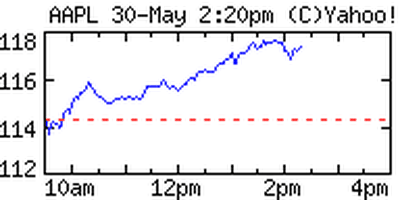 Note that Dell does not compete in as many areas as Apple, and Microsoft competes in more, which helps explain
some
of the disparity.
AppleInsider attributes part of the surge of Apple's stock price to recent bullish forecasts by some financial analysts, who have raised the 'BUY' price of Apple's stock to $150. Perhaps also contributing to the surge were announcements today of iTunes 7.2 with DRM-free songs.
Update: Reuters is reporting that Apple is joining the S&P 100 index. Apple will join the select group at market close tomorrow, May 31st.
The S&P 100 is a subset of the S&P 500, and is comprised of "100 leading U.S. stocks with exchange-listed options. Constituents of the S&P 100 are selected for sector balance and represent about 57% of the market capitalization of the S&P 500 and almost 45% of the market capitalization of the U.S. equity markets. The stocks in the S&P 100 are generally among the largest and most established companies in the S&P 500." (according to Wikipedia)