Apple Sends Out WWDC Teaser EMails
Apple has sent out brief teaser emails to developers inviting them to WWDC 2007. The email reads: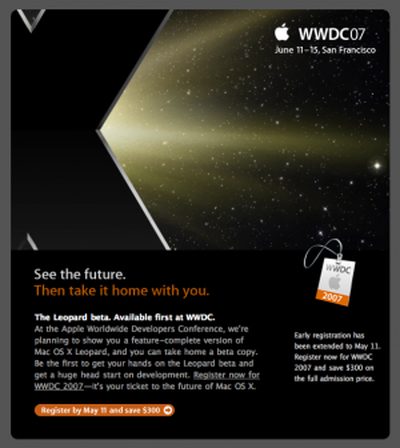 See the future.
Then take it home with you.
The Leopard beta. Available first at WWDC.
At the Apple Worldwide Developers Conference, we're planning to show you a feature-complete version of Mac OS X Leopard, and you can take home a beta copy. Be the first to get your hands on the Leopard beta and get a huge head start on development. Register now for WWDC 2007 -- it's your ticket to the future of Mac OS X.
Apple had previously announced that they would be providing a "feature-complete" version of Leopard at WWDC. "Feature-complete" presumably indicates that Apple would finally be revealing the "secret" features that they have been hinting at for months.
In the email, Apple also lets developers know that they had extended early registration until May 11th.