Patent: Organizing Multiple Dashboard Widgets
MacNN details several patent applications from Apple surrounding their Dashboard technology in Mac OS X.
The patent application surrounds efforts to organize sets of dashboards, much like Apple's upcoming "Spaces" feature in Leopard to organize workspaces. The MacNN blog takes a bit of a leap and suggests that these features will be seen in Leopard, but there is no clear evidence that this is the case.
The first example details methods for organizing widgets by theme: "For example, the user can create and configure one dashboard to contain widgets related to work, and another for widgets related to personal matters." Meanwhile, in another implementation, widget groups are organized by tabbed folders.
Finally, one possibility listed brings back the 3d cube interface that Apple has used for other transitions: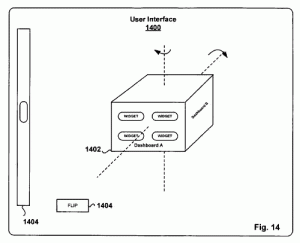 Apple's use of Dashboard widgets extends beyond desktop Mac OS X and has also made an appearance on Apple's iPhone interface, so some of these concepts could be translated to Apple's iPhone. The filing date for these patents, however, was back in February 2006 so they may simply represent unfinished concepts that won't make their way into a shipping product.