MacRumors Review: Apple TV [Updated]
After a longer than expected period of anticipation, we have received our Apple TV and have had a number of hours to spend reviewing it.
For our review, we strive to give a scientific, thorough, and unbiased reaction to a product based on a product's ease of use, features, performance, reliability and lifespan, and value. For more detailed information on how we conduct our reviews, see the review guide page.
Without further ado, read on to get our complete review of the Apple TV.
Review updated 3/26/07 to reflect details on surround sound capabilitiesThe Apple TV Market
First of all, there seems to be a lot of confusion as to the purpose of the Apple TV. Many users have been yearning for a so-called "convergence" device from Apple. Such devices aim to consolidate multiple devices into one jack-of-all-trades device (such as Apple's iPhone). The Apple TV does not appear to be such a device, as it lacks such necessary capabilities such as an optical disk (DVD/HD DVD/Bluray) player, TV tuner, or DVR capabilities.
Apple has said that the "Apple TV is like a DVD player for the Internet ageproviding an easy and fun way to play all your favorite iTunes content from your PC or Mac on your widescreen TV."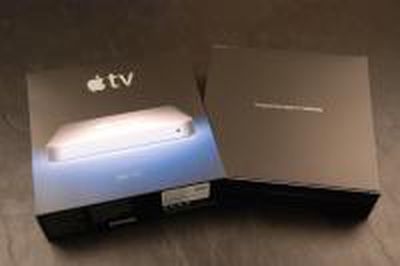 Ease of Use: 19 / 20
In all, the Apple TV was very easy to set up and use. Setting up the Apple TV was a breeze once you get the appropriate cables, which unfortunately are sold separately (see below). Connecting to my encrypted draft 802.11n wireless network was a breeze even though I am not using Apple's base station, though entering the WPA password on screen was a hassle. I can't really blame Apple for that, and the fact that it only has to be done one time isn't enough to dock points, however I can immediately see the use for one of Apple's recent patents.
Using the Apple TV was very similar to using an iPod or Front Row, and Apple was good enough to include a printed User's guide for those who like to read the manual before getting knee deep into their toys (I wouldn't know the type).
The one complaint that I have for the Apple TV's ease of use was the lack of accompanying cables for connecting the Apple TV to your system. If the Apple TV is supposed to be the "DVD Player of the Internet age," why doesn't the Apple TV come with any cables whereas every DVD player on the market comes with even the most basic of cables?
Features: 10.5 / 20
The Apple TV's features are mediocre. While I feel Apple covered many of the bases in creating the Apple TV, they left much to be desired as well.
One of the Apple TV's advantages over competing products is that it is one of the few products that is cross-platform. While some complain that iTunes is required, I believe the more significant fact is that you can use it out of the box with both Mac OS X and Windows. Competing products, such as the XBox 360, rely on Windows Media Center, and have very limited cross-platform capability.
The hard drive in the Apple TV is a useful feature implemented in a mediocre fashion. I found that an iTunes library with many movies and TV shows can quickly fill the 40 GB (32 GB useful capacity) hard disk, even after only selecting a portion of my collection. It would have been better for Apple to have included or offered a higher-capacity disk.

Apple's selection of ports on the back (HDMI, component video, optical digital audio, analog audio) is perfectly suitable for connecting to high-end TV's, but competing products offer the ability to connect to standard televisions as well, using composite and/or s-video connections.
Apple initially announced that the Apple TV would support up to 720p resolution. In fact, users found that the Apple TV can output up to 1080i, and through some tweaking, down to 480i for lower-resolution sets (see "Helpful Hints" below). Such "Easter eggs" are always appreciated, however users of larger (50" and over) TV's may be yearning for "full" HD resolutions of 1080p which some (but not all) competing solutions offer. However, with limited availability of 1080p content outside of photos, this issue isn't a show-stopper.
The limited set of codecs Apple chose to support comes as no surprise, given the product's integration with iTunes and close ties with the iTunes Store. Officially, Apple supports only H.264 and MP4 movie formats and iPod-compatible audio formats. Despite Apple's inclusion of digital audio output, Apple neglected to include support for discrete 5-channel surround sound. Instead, Apple chooses to encode movies using Dolby Surround, which sends 4 channels over a stereo signal. The resulting experience is much less thrilling than true Dolby Digital surround often found in DVDs.

Performance: 18 / 25
Performance, in the case of the Apple TV, is measured by how well the Apple TV performed as a "DVD player in the Internet Age" with its feature set.
First off, I have to give kudos to the designers of the Apple TV's graphical interface. I noticed barely any interface latency, and menus "scrolled like butter." Put simply, the interface is stunning and a joy to view. Although TV shows cannot be broken down into seasons, as in Front Row, little niceties such as having a TV show, podcast, or movie description appear when hovering over the title were extremely well done.
The Apple TV's movie-playing abilities are good, but not great. For many users, a lot of video content will likely come in the form of video podcasts or iTunes Store purchases. While video podcast picture quality vary between podcast, Apple's supplied content quality ranged from poor (for older 320x240 iTunes purchases) to pretty good (for newer iTunes store content encoded at 640x480).
Apple implemented a variable-speed fast forward and rewind, which is to be expected in such a product. When watching iTunes Store movies, chapter switching works as expected, but there was no scene selection screen to go directly to a given chapter, as in most DVD's.
Likewise, the Apple TV's music playing abilities are functional, but not very innovative. As in Front Row, the screen shows the album artwork with a progress bar. While the interface will switch to the screen saver after a given period of time, perhaps a still better use of widescreen TV real estate would be for an option to enable the venerable iTunes Visualizer.
I found the performance of the Apple TV's streaming capabilities to be quite good. While I was operating on an 802.11n network, other reports have noted that similar good performance can be had on older 802.11g networks, though sync times may be slower. The Apple TV's capable streaming abilities help alleviate the pressure off of its 40 GB hard disk (see Features above), although the Apple TV will only play slideshow music and photos that has been synced to it.
Reliability and Lifespan: 25 / 25
The Apple TV is solidly built. Connectors feel solid and not overly prone to being damaged. In addition, the Apple TV software has a built-in software update mechanism, which we hope/expect will be used in the future to fix at least some of the shortcomings noted in this review, and perhaps add features (see rumors on the Apple TV gaining gaming functionality).
Apple's 1-year limited warranty on the Apple TV is pretty much the industry standard for consumer electronics, although Apple's network of Apple Stores (and corresponding Genius Bars) makes accessibility to help better than for competing vendors. In the end, I have nothing negative to say regarding the Apple TV's reliability or lifespan.
Value: 10 / 10
Opinions on the Apple TV's value will vary from purchaser to purchaser, but compared to competing products (see below) it is surprisingly low-priced at $299. While competing products do offer additional features (1080p, optical drives, YouTube integration) at higher price points, the Apple TV is still well-positioned.
Overall: B- ( 82.5 / 100)
The Apple TV is good, but not great, and suffers from a few flaws that prevent me from giving it a glowing endorsement. It does a good job of getting content from iTunes and iPhoto onto a widescreen TV, but some loose ends end up preventing the product from shining. Despite this, one can always hope that Apple will continue to improve the Apple TV through the product's built-in software update mechanism.
- Apple TV ($299)
-- Pros: Easy to set up and use, gorgeous interface, cross-platform connectivity to 5 computers, price
-- Cons: Limited surround sound, limited codec support, some features are incomplete/unpolished
Comparable Products
- Netgear EVA8000 ($349 at Amazon)
-- Pros: 1080p support, YouTube integration, PC desktop viewing
-- Cons: not Mac/iTunes compatible, lacks support for 802.11n
- XBox 360 (Reviewed by CNet) ($399)
--Pros: Gaming, HD DVD viewing with add-on accessory, HD Movie downloads available
--Cons: Price, no HDMI output, limited Mac compatability
- Playstation 3 (Reviewed by CNet) ($499)
--Pros: Gaming, Bluray built-in
--Cons: Price, limited game titles, Price (did we mention that?), limited Mac compatability
- Mac Mini ($599)
--Pros: Fully functional computer, can access Internet content via Safari
--Cons: Price (if just using in media center)
Helpful Links
- Apple TV Hardware Upgrade Tutorial (warning: will void warranty) #1
- Apple TV Hardware Upgrade Tutorial (warning: will void warranty) #2
- Standard Definition (480i) TV Tutorial
- Logitech Harmony Remote Setup Tutorial
- Setting up an automated workflow to convert files for Apple TV on Mac OS X
- Anandtech's dissection of the Apple TV
- MacRumors Apple TV Forum
User Reactions
As part of our reviews, we feel it is essential that the "voice of the people" be heard as well as this reviewer for additional insight into the Apple TV. Especially insightful comments posted to the forum thread will be "promoted" here:
- Avatar74

I just tested 720p content, streamed from a G4/933MHz over an 802.11g network, skip-free and the color, clarity and contrast are stellar on my Sony WEGA XBR HDTV CRT (1080i)... CRT's are the best test as flats are generally inferior in terms of contrast, clarity and color.
- balamw

There are two key omissions from this device that make it less useful than I had hoped.
1) Parental controls. Apple has parental controls everywhere else, why not on the Apple TV? I want to be able to let my kids loose on the device, but can't keep them out of any potentially inappropriate content (Since they are 5 and 3 there's plenty of content in that category.)
2) Subtitles/Closed Captions. Apple is usually very good at providing accessibility. I often watch TV at low volumes or when the kids are making lots of noise, so I usually turn on subtitles/captions just in case. TV doesn't support captions/subtitles.
All in all, I'm still more positive on it than the MR review and would give it a solid B, and might even make it a B+ after using the thing for a while.
The 720p output from AppleTV looks as good as any 720p/1080i channels I pick up from my cable provider.
- xnu

I have had the ATV since Friday...
Pros-
1. easier to set up than the 42" Toshiba HDTV it is hooked up to.
2. interface is as simple as it should be, no one in my family had trouble using it. (myself-38, my wife-32, my son-8, my daughter 3 1/2.) I love the remote, really comcast's remote is obscene it has like a thousand buttons... Only problem is when I use the remote my wife's Macbook starts firing up front row. (I have work on that)
3. I have it hardwired to my home network so I can't testify to the wireless capabilities, but it was very fast syncing 26mb of data.
4. Has multiple options for syncing movies and TV show, like the last five downloaded, or unwatched.
5. music and photos are great. Caught my wife playing music through it today and was pleasantly suprised.
6. Playback has been flawless, even the trailers directly streamed. I have a $50 dvd player which barely plays dvds from netflicks, it gets hung about halfway through any movie. (its only 3 months old also.)
7. For the price it really makes me love my TV. I mean, I really only watched a couple of TV shows, football and an occassional movie. Now I really don't mind plunking down a few bucks for some stuff from the iTunes store, before I would just buy something to watch on a plane once in a while.
Cons-
1. Would be great if it were a dvr. But with comcast I already have one that works well, and I have an eyetv on a mac. Would love it if eyetv worked with it but I would think the quality of my eyetv would not be that great (SD)
2. It would be better if you could purchase directly through it.
3. Needs more content on iTunes, with better quality. I am sure blue-ray or HD disks would be better quality, but I am not running out to buy one either, not even with a game system. I already have an Xbox, PS2 and Wii and really need another game system like a tax audit.
4. 33mb of space is puny, but managed correctly probably isn't a problem. more storage would be a benefit.
5. As an Apple product it is solid, but not crazy brilliant as we all are accustomed.
Overall, I have to say I really love it, not just from a fanboy, it is just a solid product that I really never thought I would enjoy so much. Its usefullness is really amazing for $299 (+19.95 for a cable) it really brought all my media into another room of my house. Instead of watching dvd's and other things on my wife's Macbook or my Macbook Pro, or sitting in my office which I usually do, I finally get to use my widescreen tv.