Apple September 7th Media Event [Updated]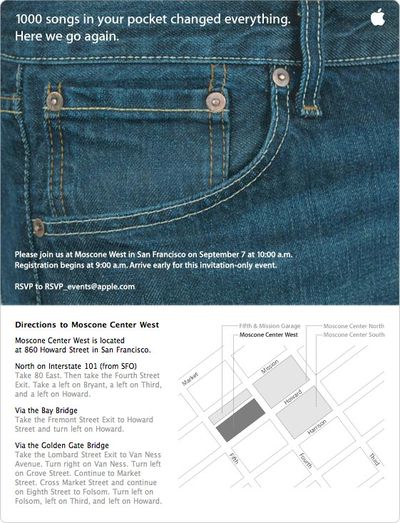 1000 songs in your pocket changed everything. Here we go again.
Apple's Media event kicks off at 10am Pacific, 1pm Eastern. Live coverage appears to be provided at:
MacWorld.com
iLounge.com
Engadget
Early event photos here from iLounge.
Motorola and Apple Launch ROKR iTunes Phone.

Motorola and Apple today announced the availability of the world's first mobile phone with iTunes, enabling music lovers to transfer up to 100 of their favorite songs from the iTunes jukebox on their Mac or PC to their mobile phone.
The new Motorola ROKR (pronounced "Rocker") is available in the following markets:
- U.S. - today, exclusively with Cingular
- U.K. - expected to be available first with Carphone Warehouse in mid-September and with O2, Orange, Virgin Mobile, BT Mobile and other top retailers by late September
The Motorola ROKR features a color display for viewing album art, dual built-in stereo speakers and stereo headphones that also serve as a mobile headset with microphone. Music fans can randomly autofill or manually fill the mobile phone with playlists of their favorite music, audiobooks and Podcasts from their iTunes library via a USB connection. The Motorola ROKR pauses music automatically when users take a call and offers the ability to listen to music while checking messages or snapping a photo

Updates:
- iTunes 5 announced. Same display, but cleaned up. Search bar. Smart Shuffle feature. Can now organize playlists into folders. Available today from Apple's website. Windows users can sync contact and calendar info with Outlook and Outlook express. Parental controls to restrict songs with explicit lyrics. Album reviews.
- Photo from stage of the new phone: Phone Photo
- Motorola Rokr can only hold about 100 songs. "The way we think of this phone is, it's really an iPod shuffle on your phone" - Jobs.
- Cingular has updated their website with photos and information on the new iTunes Phone. $249.99 with a 2year contract.
- iPod nano - Replacing the iPod mini with the iPod nano: "an entirely new ground-up design, that also has 1000 songs in your pocket." The white device features a color display and can support photos, uses a grey click wheel to navigate, and is 80 percent smaller in volume than the original iPod -- thinner than a number two pencil, said Jobs. The iPod nano weighs 1.5 ounces or 42 grams". Photo.