Though there are now hundreds of Apple Watch chargers and stands on the market, Apple is only selling a handful in retail locations - those that are designed with a clean aesthetic that matches the feel of the company's products. The latest Apple-endorsed Apple Watch charging solution comes from Sena, and will be in Apple Stores in mid-November.
Sena's Leather Watch Case, which is actually available from Sena's website beginning today, is a hybrid stand and case product that can be used for charging, storage, and travel purposes.
The Leather Watch Case is designed to look like a traditional watch case that might come with any luxury watch. It's similar in size to the box that comes with the stainless steel Apple Watch, with a round exterior covered in a quality black European leather and a microsuede-covered interior for the Apple Watch to rest on. It only comes in black, which might not be appealing to all users, primarily those with silver, gold, and rose gold Apple Watches.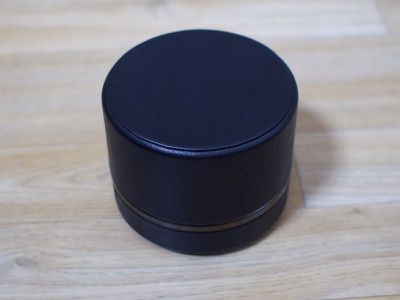 As with most Apple Watch charging accessories, the Leather Watch Case requires you to supply your own Magnetic Charging Cable, but it does include a cord wrap to keep the cable hidden from view. There are four pieces to the Leather Watch Case, which snap together magnetically: a leather-covered bottom base, a plastic cord wrap that fits inside the base, a microsuede interior piece that houses the Apple Watch charging puck, and a leather-covered lid with a padded microsuede interior that fits over the whole thing to protect the Apple Watch when on the base.


Assembling the Leather Watch Case was a simple enough process that consisted of fitting the charging puck into the microsuede holder, guiding the cord through the cord wrap and out the base, and fitting all of the pieces together.




From there, the Apple Watch sits on the base in landscape orientation, allowing it to be used with Nightstand mode. The lid of the Leather Watch Case can be placed over the Apple Watch to keep it safe or it can be placed under the bottom base to raise it up higher for use in Nightstand mode or to display the Apple Watch.


Both closed and open-loop bands work with Sena's Leather Watch Case, but as someone with a small wrist, I noticed that not all bands fit comfortably. I can put my stainless steel Apple Watch with a Sport Band on the stand when it's open, but when it's closed up, it has to be on the very last loop to fit over the base of the charger. I have some third-party bands that don't open up will not fit, so that's something to keep in mind.


That's an obscure use case though, and the Apple-designed bands should fit well on the base of the stand. Design wise, it's especially well-suited to closed-loop bands like the Milanese Loop, the Link Bracelet, or the Leather Loop.


The Leather Watch Case can be used on a desk or a nightstand at home, but it also doubles as a way to safely travel with an Apple Watch and charge it when at a destination. When transitioning between use cases, the Leather Watch Case is going to need to be disassembled to change the length of the cord.


When traveling, it's ideal to have the cord completely wound up, which requires removing the bottom piece of the base and winding the cord. To use it for charging again, it's necessary to take it apart and remove a length of cord. Sena's installation instructions mention that users should not tug on the cord when it's in place because there's no automatic winding mechanism, and I can't help but think that would have been a fantastic addition to this case.
As Sena specifies, all winding and unwinding must be done manually, which is an annoyance, but it's still handy to have a way to hide all the excess cord of the 2m Apple Watch cable.


Because of the circular shape of the Leather Watch Case, it's an odd fit inside a bag, backpack, or suitcase when traveling, but it's small enough that it doesn't take up much room and light enough not to add a lot of weight. An expensive leather travel case is a bit of a curious choice, as I'm worried that I could cause damage to it by carrying it in a bag with other items.
Most travel-oriented Apple Watch stands and cases that have come out so far also include a built-in battery, but Sena has not included that in the Leather Watch Case despite its premium price tag, so this is not the case to get if you need power for off-the-grid use.

Bottom Line
Sena's Leather Watch Case is undeniably elegant on a desk, and it's a good option for those who are looking for a way to keep the Apple Watch out of sight and out of harm's way during travel or at home while it's charging. This has the potential to be a solid charging solution for people with pets or children because it's one of the only chargers that comes with a cover.
It's not inexpensive, but it does meet a specific use case that some people are bound to have, and it also doubles as a solution for keeping the Apple Watch protected during travel, albeit a bulky one. Most people are going to wear their watches while traveling and won't need to use the Sena Leather Watch Case as a travel solution, but for people who own multiple watches, its versatility will be appealing.


I do wish there were an easier way to transition between travel accessory with the cord wound and home accessory with the cord available for charging, but the pieces come apart easily enough that it's not too much of a hassle to deal with.
This isn't going to be a case that meets all needs due to its price tag, but for those who like the aesthetic and have a use for a stand that serves multiple functions, the Leather Watch Case is worth checking out.
Pros:
Quality build
Versatile
Protects Apple Watch
Cons:
Expensive for the no frills functionality
Requires disassembly to wind/unwind cord
Landscape-only orientation
One color option
How to Buy
The Leather Watch Case can be purchased from the Sena website for $79.95. It is also available for purchase from Apple.com and in Apple retail stores.
Note: MacRumors received no compensation for this review.