Seagate has long sold a line of Backup Plus external hard drives that offer large amounts of storage space at a reasonable price, and in June, the company announced two new features added to all hard drives in the Backup Plus line: 200GB of Microsoft OneDrive cloud storage and the Lyve photo and video management app for automatically backing up photos.
Seagate also announced a new high capacity Backup Plus Portable hard drive, with 4TB of storage and a 20.5mm form factor, priced at $240. Seagate invited us to test out its newest hard drive to test the Backup Plus hard drive and the new Lyve app and service it ships with.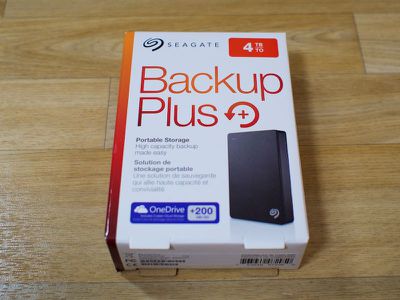 Seagate's new Backup Plus offers the same 4TB of storage that the Backup Plus Fast offers, but it's less expensive and it is a single 4TB hard drive instead of two external drives in a RAID 0 configuration. It's also got more storage than the Backup Plus Slim, which caps out at 2TB, allowing Seagate's newest offering to fill a void between the two existing products (Fast and Slim) in the Backup Plus family.

Design and Features
Seagate's been selling its Backup Plus line for years. Design wise, the 4TB Backup Plus looks like any standard 2.5-inch portable hard drive. It measures in at 4.5 inches in length, 3.1 inches in width, it's .807 inches thick (20.5mm), and it weighs 0.54 pounds. In terms of usability, those dimensions mean it's slim and easy to slip into a bag or a backpack.


The Backup Plus has a traditional black casing that's half metal and half plastic, with the metal plate located on the front of the drive. An LED on the front lights up when the hard drive is plugged in, and there's a single USB port on one side.




There's a large but subtle Seagate logo on the back and another small logo in silver on the front. The Backup Plus is USB 2.0/3.0 only and ships with an 18-inch USB 3.0 cable, which is an adequate length for use on a desktop or while on the go.

Software and Performance
Seagate ships the 4TB Backup Plus in an NTFS format, so to use the drive without formatting, users will need to install Seagate's NTFS driver for Mac. With the driver, the Backup Plus can be used interchangeably between Windows and Mac computers without needing to reformat.
With the Blackmagic Disk Speed Test, we saw write speeds of 119 MB/s and read speeds of 114 MB/s, which is comparable to many other similar hard drives on the market. I also did standalone tests transferring 10GB chunks of photos and videos to and from the Backup Plus and saw similar but slightly lower average speeds of 97MB/s read and 99MB/s write. While conducting these tests, the drive got warm, but not hot.
There are multiple options for using the Backup Plus for backing up files, including the Lyve service, Microsoft OneDrive, and Seagate's own software, the Seagate Dashboard. Software doesn't come pre-installed on the drive, but can be downloaded from a link in the setup instructions.


The Seagate Dashboard is Seagate's standard backup/restore software. It can be used to automatically backup files on a Mac, iPhone or iPad, and social networking sites, and it can transfer important files to a cloud service like Microsoft OneDrive for extra protection. Purchasing the Seagate Backup Plus entitles users to create a free OneDrive account with 200GB of storage, which will last for a period of two years.


Backing up files from an iPhone or iPad will require the Seagate Dashboard app on the Mac and the accompanying Seagate Backup app. Files can be transferred via WiFi when at home or stored in the cloud when away from home using Google Drive or Dropbox.


Photos and videos can be uploaded automatically from the drive to Flickr, Facebook, or YouTube, and photos from Facebook or Flickr can be downloaded from the social networking sites to the drive. There's also an option that will continually download photos from social networking sites whenever you upload them, which is a useful way to make sure you always have multiple copies of your photos.


I set up the Seagate Dashboard so my iPhone and iPad photos would upload automatically to the Backup Plus, which in turn uploaded those files to the Microsoft OneDrive account that I set up. I use iCloud to store my photos so the Seagate Dashboard to Microsoft OneDrive option seemed like overkill, but if you don't use iCloud Photo Library and store your photos in the cloud, it's a good option. It's also a solid solution if you need something that's going to work across Windows and Mac devices.
Lyve is a separate service that works with the Backup Plus. Lyve is designed to sync with specific apps or folders on a Mac, continuously importing all new photos and videos that are added. For example, it can sync with the Photos app, transferring each photo uploaded to the hard drive.


In my testing, Lyve was easy to use and it worked quickly. When synced with a folder on my Mac, every photo I uploaded to the folder was synced to the Lyve service and then uploaded to the Seagate Backup Plus. For people who only need to back up photos from a Mac and would like something automated, Lyve is even simpler to use than the Seagate Dashboard and it works well as a tertiary backup for iCloud Photo Library. Lyve and Seagate Dashboard can be used in tandem.


As of July, all hard drives in the Backup Plus family, this one included, ship with the 200GB of OneDrive storage for two years and Lyve integration, bringing these backup options to all of the hard drives in the line up.

Bottom Line
The 4TB Backup Plus is a solid option for people who want a high capacity external hard drive that's compact and easily portable, plus it's one of the first 4TB 2.5" drives available. It's priced at $240, but sites like Amazon and Best Buy are selling it for $170 to $199, which is a much better deal and makes it a worthwhile purchase.
Along with a high storage capacity, the Backup Plus offers features that can't be found elsewhere. With Seagate Dashboard, it can backup files across a range of devices, including mobile devices, and it's able to backup the photos you upload to sites like Facebook and Flickr in a way that's fast and hassle free.


Performance is average and on par with other similar hard drives, so there's nothing special there, but the addition of Lyve makes this useful for people who want to use to automatically backup photos, and having 200GB of Microsoft OneDrive storage is also a nice perk, as it provides a way to make sure important files and photos are backed up on the drive and in the cloud.
Pros:
High capacity
Slim, portable design
Classic look with minimal branding
Lots of software options
Microsoft OneDrive storage
Cons:
Pricier than some of the larger 4TB external drives
Performance is nothing special
How to Buy
The 4TB Seagate Backup Plus Portable has an MRSP of $240, but it can be purchased from Amazon.com for $179.99.