The QardioBase is a Wi-Fi connected smart scale created by Qardio, the same company that produces the well-known medical-grade QardioArm blood pressure monitoring accessory. QardioBase, Qardio's second product, was first introduced at CES in January of 2015 and began shipping out to customers in the fall.
Qardio's new scale includes features for measuring weight and analyzing body composition to provide details on a person's overall health. It bundles these health-management features into a friendly package that's meant to provide gentle guidance towards a healthier life. I've been testing the QardioBase for several weeks now, and while I'm a fan of the minimal design and the health features it provides, there are some flaws that will prevent it from appealing to all users.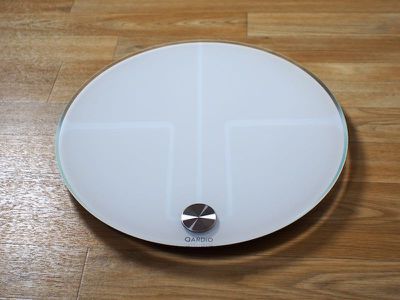 Design
At first glance, the QardioBase is one good looking scale. Circular in shape, it features a plain white glass-covered top that's unmarred by numbers or other adornments. Underneath that glass is an LED screen, which is what displays body weight and other information using green pixels.
The QardioBase looks nice, but in my experience, it has a not-insignificant design flaw. It has a funnel-shaped design where the outer edges of the scale extend further outwards than the base, making it unstable. When I stepped on or off the scale near the edge, it felt like it was going to tip over, taking me along with it. I didn't fall when using it, but I did have a few "Oh my gosh!" moments where I had to grab on to something to steady myself. I'm no designer, but this instability seems like a big oversight.


Measuring in at 12.6 inches across, the QardioBase is similar in size to the average house scale, but its round shape means it doesn't fit as neatly up against a wall or in a corner when not in use.


Underneath, the QardioBase opens up to allow batteries to be inserted. It takes 8 AAA batteries, likely due to the LED display under the glass. That's a lot of batteries to have to keep on hand, and a significant ongoing cost. My existing scale uses half that number of batteries. According to QardioBase, the batteries last a year with regular usage, and I had no issues with battery during the time that I tested the scale.




The QardioBase was fairly accurate with my weight, which never fluctuates far from 100lbs, but it did have a tendency to offer up different weight readings through 10 weighings during the same five minute testing period:
102
101.6
102.2
101.6
101.4
102.2
101.1
101.6
101.6
101.4
Actual weight, as measured by my standard scale that did not have the same fluctuations across multiple weighings, was 101.4. It's not a huge difference, but the Qardio was off by almost a pound some of the time and not getting the same weight result twice was odd.

Other Features
Smart visual feedback is one of the best features about the QardioBase. When you step on, it will display a happy face, a sad face, or a neutral face to give immediate feedback on weight loss or weight gain. The face is accompanied by an LED readout of weight, so you don't need to open the app to get a weight measurement. If, for some reason, you hate happy faces, you can set it to only display the weight.


Along with weight, the QardioBase measures body fat. I can't comment on the accuracy of this feature because during my time testing, I wasn't able to find a way to have my body fat tested professionally. I contacted both my doctor and other doctors in my area, but I couldn't find a reliable medical source to get accurate data.
Scales that measure body fat through bioelectrical impedance probably shouldn't be relied upon as offering accurate data, as there are a lot of variables that can affect results even on a day to day basis, including hydration level, food intake, exercise, and the skin on the foot. According to Consumer Reports, these scales are inaccurate enough that it won't include body fat capabilities as a metric when testing scales, and a 2008 study of similar devices [PDF] found them useful only as a means to motivate subjects to lose weight due to limited accuracy.


To take a body fat measurement, the scale needs skin contact. That means socks need to be removed. While the weight measurements captured with the scale were always close to my actual weight, I saw a lot more variation with the body fat measurement. I had readings that were as low as 27 percent and as high as 35 percent over the course of several weeks.
Based on weight, the QardioBase will also include body mass index calculations to let users know where they fall on that scale. It has details on muscle, water, and bone composition too, taken from the body fat measurement, but again, those are of questionable accuracy being measured with just a pulse through the foot.
The QardioBase also has settings specifically designed for tracking weight gain during pregnancy, and it will support multiple users. It detects different users automatically based on weight and body composition, and it will connect to multiple apps on different devices so each person in a family can make use of the QardioBase's features.

App
Setting up the QardioBase using the app was a simple process for me. I downloaded the app, created an account, stepped on the scale, and followed the instructions. My QardioBase connected to my Wi-Fi network right away and I haven't had any problems since -- data is always reliably transferred to the Qardio app.
Measurements taken by the Qardio scale are displayed on the screen for a brief moment and are accessible for a longer period of time in the app. The Qardio app connects to the scale and displays the information for the most recent reading, including weight, body fat percentage, muscle percentage, body mass index, and weight loss targets.


A "Notes" section lets users insert pre-defined or custom notes for reference later, such as "I'm on a good streak" or "Went off track this week."
The app interface is plain, but easy to read. It also offers sections that include measurements over time, which can be organized into a line graph or a list of weights compiled by date taken. It includes a view of all days that a weight was taken and a view for adjusting a weight goal.


A Reminders section within the app can be used to remind you to weigh yourself each day, which is useful because it's ideal to take a weight measurement at the same time each day in the same conditions to avoid variations introduced by clothing or slight differences in water retention during the morning and the night.
For people who would rather not track things like body mass index and body composition, the app offers settings to configure the QardioBase. A weight only feature will exclude body mass index and body composition, and there's an option for tracking weight through a pregnancy.


The app will also include measurements from the QardioArm blood pressure monitor if you own one of those, and it has features for connecting to friends and family, entering doctor information, updating QardioBase firmware, and getting support.

Bottom Line
I first saw the QardioBase at CES in 2015, and I was taken with the simple design and the personality of the scale. That's still true today, so it was a disappointment when it didn't quite live up to my expectations.
I love a scale that winks at me and smiles when I step on, but the cute factor doesn't quite outweigh the small inaccuracies I experienced when taking my weight and the bigger problem of the unstable scale base. The wobbling is just plain scary at times if you mistakenly step on the edge or don't align your feet properly.


The QardioBase was never significantly wrong about my weight, but it did often give slightly different measurements even when those measurements were taken at the same time. That's not something that's going to bother most people, but for those who are looking for extreme accuracy, it's a problem.
Accuracy can be fixed through firmware updates, but the unstable hardware design can't be fixed. The QardioBase is cute and it can be a useful tool for keeping an eye on overall weight, but it's not the best smart scale on the market. Potential QardioBase buyers need to be aware of the downsides and should aim to test it out by purchasing from a company with a generous return policy.
Pros:
Great design
Smiley/sad face is cute
Measures weight and body fat
Easy setup, connected app works well
Supports multiple users
Integrates with Apple Health
Cons:
Unstable
Takes 8 AAA batteries
Gives varied measurements
How to Buy
The QardioBase can be purchased from the Qardio website for $149.99.