G-Technology's G-Drive ev ATC is its latest hard drive, offering Thunderbolt connectivity in an ultra protective package. Introduced at CES this year, the G-Drive ev ATC (ATC stands for All-Terrain Case) is shock/dust resistant, waterproof and pressure resistant, plus it offers 1TB of storage and Thunderbolt speeds.
Designed for users who need storage space that can be used in the field in suboptimal conditions, the bus-powered G-Drive ev ATC will keep data safe in all kinds of environments. The ev ATC (which has an ev RaW 7200 RPM hard drive inside) is also compatible with company's Evolution series, including the G-Drive ev and G-Drive ev SSD, so hard drives can be swapped in and out of the rugged enclosure.
What's in the Box?
The G-Drive ev ATC includes one inner 1TB G-Drive ev RaW, the rugged outer casing, and a USB to Micro-B cable for using the hard drive with your Mac when it's not inserted into the enclosure with the Thunderbolt cable. It also ships with a small instruction manual to walk you through removing the inner drive from the outer casing and swapping it into other G-Technology products if desired.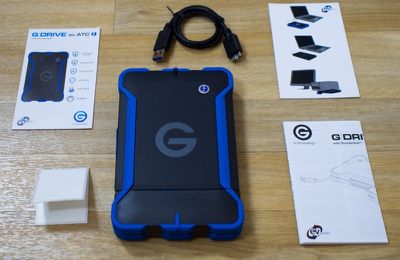 Design and Features
There are two major parts to the G-Drive ev ATC: the hard plastic and rubber all-terrain case and the inner 1TB hard drive. The outer shell is constructed from black plastic with blue rubber accents at the corners and on the top and bottom to provide cushioning should it accidentally fall. It feels like a solid, quality product that's going to stand up to abuse.


It's branded with the company's signature "G" logo and it has an LED at the top to let you know when it's plugged in and active. A built-in Thunderbolt cable tucks around the perimeter of the drive and is covered with a blue rubber cap to keep dust and water out. One minor downside to the hard drive here -- the rubber cap is flimsy and it feels like it could rip off with rough handling, and when subjected to a water test, a bit of water leaked in (it remained usable after the water dried).




On the side of the ev ATC, there's a buckle that can be opened up to release the top part of the enclosure to get to the ev RaW hard drive inside, which plugs into the outer casing using its SATA interface. The top of the opening is surrounded by the same rubber that's on the outside of the case, preventing water and dust from getting at the inner ev RaW when the case is closed.


The inside hard drive slides right out from the outer enclosure, and the case can be used with other G-Technology products. If you have a G-Dock, for example, you can pull out one of the drives, toss it in the ev ATC case and take it on the go, offloading pictures or videos by plugging it into the dock again. Similarly, if you have a G-Drive ev SSD, you can pull out the ev RaW and stick the SSD in the ev ATC for some extra protection when traveling. You can also take the ev RaW inside the ev ATC and plug it into the G-Dock via its SATA interface.


When plugged into the ev ATC case, the included ev RaW hard drive (or another ev series hard drive) works over Thunderbolt, but when removed from the casing, you'll need to use the USB 3.0 cable to connect the ev RaW to a computer. Since there's no USB interface on the ev ATC, connecting to a USB port on a Mac will always require opening up the case and removing the ev RaW.
Size wise, the G-Drive ev ATC is somewhat bulky because of the protective outer casing. It's going to fit fine in a backpack or suitcase, but it's larger than similar products from LaCie. It measures in at 6.46 by 4.25 by 1.20 inches, and weighs 0.82 pounds. The inner G-Drive ev RaW is slimmer and could fit in a pocket or purse, at 5.14 by 3.29 by 0.65 inches. It's actually the same as the other removable drives in the company's G-Dock ev series, but it's made of black plastic rather than aluminum for better durability and a 35 percent lighter weight.


The G-Drive ev ATC is marketed as an "all-terrain" hard drive that can hold up to several environmental hazards. It's shock resistant and will withstand a 6 and a half foot drop, it's resistant to pressure, protected from dust due to its enclosure, and it's water resistant when inside the casing. The drive is light enough that it floats in water, so should it somehow fall into a shallow pool of water, it won't sink to the bottom and become unretrievable.


According to G-Technology, it can survive for 30 seconds in water up to one foot in depth, so you shouldn't toss it into a lake, but it's going to be okay in the rain or with a bit of water spray at the beach. We stuck it in the shower for several minutes and saw no water leakage inside the case, but water did get into the Thunderbolt cable (as mentioned before, the hard drive remained functional after it dried). We also tested the drop capabilities and did not damage the inner drive or the casing even after repeated drops from six feet.

Software and Performance
Many hard drives on the market have drive management software packages pre-installed, but the ev RaW does not. It does come automatically formatted for use with Macs, so prospective buyers who want to use the drive with Windows will need to reformat it right out of the box.


According to G-Technology, the 7200 RPM ev RaW hard drive inside the ev ATC should see read/write speeds of up to 136MB/s, and in our tests using the Black Magic Disk Speed test, performance was nearly at that level. We saw average write speeds of approximately 122MB/s and average read speeds of 132MB/s when connected via the ev ATC's Thunderbolt.
Over USB 3.0, average speeds were just slightly lower at 120MB/s write and 130MB/s read. Overall, for a magnetic drive, the data transfer speeds were solid and in line with what G-Technology advertises.

Who's It For?
The average person doesn't need a hard drive that's able to withstand rain, mud, dirt, significant drops and other environmental hazards, so the G-Drive ev ATC is a bit of a niche product. It's aimed at photographers, videographers, and other professionals who do a lot of field work and often find themselves needing to store or access data in areas that could damage standard hard drives.


The G-Drive ev ATC can survive a lot of abuse including dust, drops, liquid spills, puddles, sand, and more, so it's worth a consideration if you're the type of person that needs to work in those conditions. It's expensive compared to other 1TB hard drives on the market, but it offers a level of protection that many competing products do not. It's worth noting that G-Technology's parent company HGST (a subsidiary of Western Digital) has some of the lowest hard drive failure rates and G-Technology products are often lauded for their reliability.
If you're already using G-Technology's ev product line in your home or office, the G-Drive ev ATC is a natural addition because it works with the existing G-Dock ev and offers swappable components. The inner ev RaW can be removed and used with the G-Dock, and the G-Drive ev and the G-Drive ev SSD work with the ev ATC enclosure.


It's only worth purchasing the ev ATC with Thunderbolt if you need to take advantage of a Thunderbolt port -- there's a cheaper USB 3.0 version that'll be available soon, and it's a better buy for primary use over a USB connection.
Pros:
Versatible, works with all Evolution Series G-Drive products
Resistant to elements
Floats in water
USB/Thunderbolt/SATA
Good performance
Cons:
Bulky/Heavy
Expensive
Flimsy Thunderbolt cable cap
USB 3.0 access requires removing inner drive from casing
How to Buy
The G-Drive ev ATC with Thunderbolt can be purchased from the G-Technology website for $229.95. It's also available from Amazon at the same price point.