ElevationLab's latest product is the BatteryPro, an Apple Watch and iPhone charger that's got some clever design elements and a built-in Apple Watch charging puck for convenience. Priced at $99, the BatteryPro isn't cheap, but if you value ease of use over cost, it's worth checking out.
At first glance, the BatteryPro doesn't look like much. It's similar in design to many external battery packs, constructed from plain but durable black plastic and designed with a rectangular shape that matches up well with the iPhone. It's meant to fit in a back pocket while charging the iPhone, and it does. Walking around with the BatteryPro in a back pocket isn't exactly comfortable because it's almost an inch thick and weighty, but it's functional in a pinch.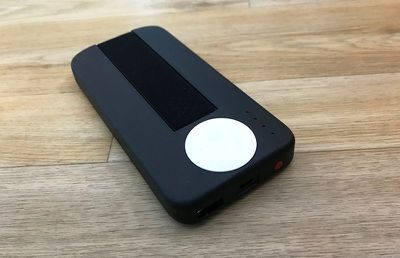 Though it uses a simple design, the BatteryPro features a built-in Apple Watch charging puck and a unique elastic "StowStrap" that's designed to hold the Apple Watch in place while it's charging, so you can toss it in a backpack while on the go. When not in use, the strap sits flush in a groove that's been added to the Battery Pro, but when you need to charge, you unhook it from the back, place the Apple Watch on the charger, wrap the strap over it, and secure it in a second slot on the back of the device.




With this setup, the Apple Watch is held firmly in place on the charger and it's protected from scratches and other damage while it's charging. This is ideal for charging the Apple Watch in a purse or a backpack, but it's also handy on a nightstand because there's no way to knock the watch off.


Along with the strap and the Apple Watch charging puck, there's a micro-USB slot at the top of the BatteryPro that's used for charging and a USB-A slot that accommodates a Lightning to USB cable for charging an iPhone (or any other kind of device). While a micro-USB cable is included, you will need to supply your own Lightning cable.


The top of the BatteryPro also features a red button that's used to initiate charging when an Apple Watch or iPhone is connected, and on the front of the device next to the Apple Watch charging puck, there are four LEDs that display the approximate charge level whenever the red button is pressed.
There's an 8,000 mAh battery in the BatteryPro, which is good for a week or two of Apple Watch charges. There's not quite as much battery life when used with the iPhone, but with my 7 Plus, which has a 2,900 mAh battery, I got nearly two charges from it. On the first charge, my iPhone 7 Plus went from dead to full, and on the second charge, it had enough juice left to get it from dead to 84 percent. With the iPhone 7 (1,960 mAh) and other devices with less battery capacity, the BatteryPro will offer up to three charges.


ElevationLab says the BatteryPro features "smart high-speed USB out," and it took a little over two hours to charge my iPhone 7 Plus from dead to full. Charging the BatteryPro itself from dead to full also takes just a couple of hours.

Bottom Line
You can get a 10,000 mAh Anker external battery pack on Amazon for a fourth of the price of the BatteryPro, and there are even cheaper off-brand options available. While cheap, those vanilla battery packs don't come with the features that are packed into the BatteryPro, including a built-in Apple Watch charging puck and the strap that holds the Apple Watch in place.
I travel often and find it to be a hassle to carry around a lot of charging cables, so I much prefer built-in Apple Watch charging solutions like the BatteryPro, and being able to secure the band to the charger with the elastic strap was useful when I needed a little extra juice to get through the day. I do wish a short Lightning cable was offered with the BatteryPro, though, especially at the $99 price point.
If you don't mind carrying around both an Apple Watch charging puck and a Lightning cable, the cheap battery pack is always going to be a better buy, but if you would rather shell out some extra cash for the sake of convenience, the BatteryPro is a solid iPhone and Apple Watch accessory that's worth a look.

How to Buy
The BatteryPro can be purchased from the ElevationLab website for $99.