Dotti and Notti are small iPhone-controlled smart lights created by design company Witti. More fun than practical, the two lights connect to an iPhone over Bluetooth, allowing their colors to be changed and letting them light up when a notification is received.
Notti, the more inexpensive of the two at $60, is an angular light that somewhat resembles a candle. Dotti, priced at $80, is a square pixel light with 8x8 grid of LEDs that can be arranged into different pixellated shapes and colors.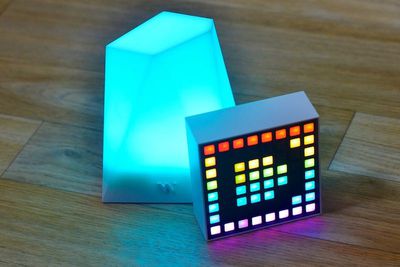 I went hands-on with the Notti and Dotti and after a couple of weeks, I can say that they're both well-designed, fun to play with, and make nice desk or table decorations.

Notti
Notti is the more simple light of the two. Made of opaque white plastic, it's got a faceted, angular design that looks attractive, especially when lit. It's a nice mood light for a living room or bedroom, measuring in at 10cm x 7.5cm x 6cm. Notti has a built-in battery that will last for up to five hours when the light is turned on, and up to 720 hours in standby mode while waiting for a notification to come in.


When the Notti is first turned on via a small button on the front of the light, it's bright green, but with the accompanying Notti app, it can be changed to any color. The Notti pairs with an iPhone automatically once the app has been installed. Lights don't photograph quite as saturated in as they are in real life, so when looking at photos of Notti and Dotti, keep that in mind. The colors are actually deeper and more vivid.


With the app, you can control both color and brightness with a color wheel, resulting in a lot of different combinations. LEDs in some colored lights can't do certain shades like blue and green, but the Notti does well with these these colors.

App features include a rainbow mode that cycles through colors continuously, an alarm mode, and a mode that lets the Notti flash along with the tempo of a song. The app's most important feature is a notification setting that works while the Notti is in standby, flashing in a specified color whenever a notification is received.
Several system apps work with Notti, including SMS/iMessages, phone calls, Mail, missed calls, and Calendar. It's also compatible with third-party apps including Facebook, Twitter, WhatsApp, Wechat, Facebook Messenger, QQ, Line, Weibo, Skype, Google+, Instagram, Viber, IFTTT, Hangouts, Kakaotalk, and Telegram.


Notti only works with the above listed apps, so there's no way to set it to deliver a notification for an app like Tweetbot, Mailbox, or Fantastical, which is a bit of a downside if you use a lot of unsupported apps. You can also only receive notifications for four third-party apps at one time.


When a notification comes in for one the supported apps, the Notti flashes in your chosen color, and it's impossible to miss. With the Notti set up alongside all of my iOS devices and Mac, when I get an incoming call, there's a bright flashing green light, my iPhone rings, my iPad rings, my iPad mini rings, my Mac rings, and my Apple Watch rings. It's a circus of light and sound.
Notti's app isn't perfect. There are a few misspellings, the interface could be better, and choosing colors for notifications could be more clear, but on the whole, it works, as does the notification feature. I tested Notti with several of the apps it's compatible with, and notifications were successfully delivered with each one.
I don't think most people need the Notti for notifications because our iPhones, Macs, and Apple Watches do a pretty solid job of letting us know when we receive a message, but it's a fun feature and it's potentially useful if you do need visual notifications. Notti's also fun at parties, it's nice to use as a nightlight when you get up at night for a drink, and on a low setting, you could plug it in and leave it on in a child's room. It's also a nice little mood light that pairs well with existing lighting systems, like the Philips Hue.

Dotti
Dotti and Notti are two completely unique lights. While Notti's a faceted jewel-like light, Dotti is a square light (7.7cm x 5.2cm x 5.2cm) with 64 LEDs that can be used to make pixellated light art with the accompanying Dotti app. It reminds me of a Lite-Brite and it's fun to fiddle with when you're bored or stressed out and need to relax for a few minutes.


Dotti's design may seem familiar -- it's quite similar to the L8 SmartLight that was available via Kickstarter in 2012, but that product is not available and it's received poor reviews from backers. The Dotti looks similar, but it lacks some of the L8's sensors (it promised proximity, temperature, and luminosity sensors) and its performance issues.
Like the Notti, the Dotti has a built-in battery so it can be used without a cord, and it lasts the same length of time before needing a charge. The Dotti has no physical buttons, instead using a touch panel at the top of the light. It turns on with a hard press and swiping along the top of the panel can switch between modes, displaying favorite icons, animations, a clock, and more.


Though square at the front, the backside of the Dotti has a faceted design like the Notti. I'm not sure if this was done to accommodate battery or if it was a design decision, but the faceting makes the light's body more visually interesting.


Dotti connects automatically to the Dotti app, which is used to control each of the LEDs. The app displays a grid and a color palette, and creating a design is done by tapping each square in the grid. You can choose from several different colors and color intensities while making a design, with black turning off an associated LED.
There are several preconfigured favorites built into the app to select, from including a happy face, a heart, a Batman symbol, a mushroom, and a Pac-Man. There's also an animated scene, which you can customize. You can save your own animated design and pixel art creations, but you have to overwrite the preconfigured content.


You can only save eight designs and one animated scene in the Dotti app, which is kind of non-sensical. The app would be a lot more useful if it could store many more designs.
With music on, Dotti will show a visual synthesizer, and there's a clock mode that'll display the time. It's a little hard to read (that's 21:49 in the image below). There's even a built-in dice game, which you can activate by shaking the light. Each shake rolls the dice again.


Like the Notti, one of Dotti's major features is the ability to display incoming notifications. It works with all of the same apps and features on the iPhone as the Notti, but it displays notifications as a pixellated app icon. Dotti's display notifications can't be customized -- they're preconfigured for each app. Each notification will flash until you touch the top of the light to dismiss it or until you clear the notification on your phone.


Dotti has a lot of functionality, but it's not all easy to access because the touch panel at the top of the light isn't intuitive. Luckily the Dotti's core features -- drawing and notifications -- work well without needing the touch panel, and many of the additional features can also be accessed within the app. The Dotti app could definitely use improvement. A $79 light should support a lot more saved animations and art.

Bottom Line
Both the Dotti and the Notti make fun desk toys, but it's hard to see them as anything but toys. The Notti is somewhat more versatile because it can serve as a mood light or an alarm clock, but the Dotti may be something that most people will play with for a few weeks and then set aside.
Most of us have enough ways of receiving notifications, but if you use the supported apps a lot and like to keep your phone tucked away while at the office, the Notti and Dotti are both going to do an excellent job letting you know when you're getting an email or phone call. There are some people who will find the visual notifications to be highly useful -- for those hard of hearing, the Dotti and the Notti could be far more than just toys.


Both the Dotti and Notti apps could use improvement, and both lights would be a lot more valuable if the notifications were more customizable. Being able to use the Dotti and Notti with the apps that I actually use would have made them a lot more useful to me. That said, even with somewhat subpar apps, the lights still do a lot of things well.
Nobody needs the Dotti or the Notti, but they're one of those nifty little gadgets that's just nice to have.

How to Buy
Dotti and Notti can be purchased from the Witti website. Dotti is priced at $79.99 and Notti is priced at $59.99.
Note: MacRumors received no compensation for this review.
Update 6/23: According to Witti, the Dotti app will be updated in the future to be able to support more than eight saved images and more than a single animation. Users can also email support@wittidesign.com to request third-party app additions to the Notti and Dotti apps.