Those looking for a classic leather look on their Apple Watch can find a few options ranging in price from $149 to $249 in the Apple store. With a handful of third-party manufacturers getting into the Apple Watch band game, quality accessory designer Pad & Quill has introduced its own line of Classic Apple Watch Bands for a cheaper entry cost of $89.95 that hews most closely to Apple's Classic Buckle.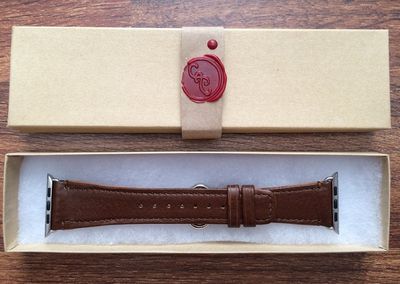 The big difference with Pad & Quill's option is an array of color options -- Galloper Black, Chocolate, Whiskey, and British Tan -- that let customers keep a traditional watch aesthetic with added customization. The company provides the option to purchase any color with either stainless steel or polished black finishes, to successfully match each user's Apple Watch face (Sport editions will support the accessory, but the same visual and corrosive warnings from Apple's own bands still apply).

Design
The Pad & Quill bands are created in an Italian leather tannery using a "soft-tumble method" that results in what the company aims to be a comfortable watch band with added durability. Designed in both the 38mm and 42mm Apple Watch sizes, the Classic Apple Watch Band will fit wrist sizes from 130mm to 210mm in diameter.
Unlike some other third-party companies, and Apple itself, Pad & Quill is making every leather color option of its band line available in both Apple Watch sizes, lending each band a unisex universality that looks good on any wrist. The company even lets users mix-and-match the color of the leather with the metal finishing in such a way that ranges from traditional (British Tan with stainless steel) to bordering on unattractive (Chocolate with polished black).




Still, the customization to a fault is welcome, and ultimately results in a handsomely made and sturdy Apple Watch accessory. Pad & Quill sent me the Chocolate with stainless steel band and I've been wearing it for a couple of days for testing. The outside of the band feels smooth to the touch and appears to back up the company's claim of the accessory's sturdiness, while the inside is sewn in a lighter-toned stitching to contrast nicely with whichever leather color is chosen.

Daily Wear
After about half a week with the Classic Apple Watch Band, I can say that things have gotten far better from the initial outset of wearing the band. A few things to note: the Apple Watch is the first watch I've worn in over a decade, and the Sports Band is the only band I own for it. Subsequently, I found the more traditional notch and clasp closure somewhat cumbersome when in direct comparison to the speed and slickness to which I can slide on and off the Sports Band.


Fortunately, once the leather began to bend and fold to the exact size I began wearing the accessory in, Pad & Quill's Apple Watch band became far less of a hassle to wear on a daily basis. I'm still not entirely sold on using it during heavy workout sessions, however, even with the company's reassuring, but generic, claims to the band's "active life durability."
I put the leather band through some traditional cardio workout sessions, and a few runs, and it came out of the other end unharmed, but notably obtrusive. The band just has too many points of prickly contact with the skin -- the metal clasp and the loops that hold the end of the band down, especially -- that are nearly undetectable on a daily basis but become magnified under a high-stress, high-movement workout. Pad & Quill also doesn't mention any sort of water resistance on its website, and while I can't claim I put it through any sort of heavy water testing, the band has come out of a few rain showers and sweaty workouts completely unharmed, although obvious water warnings against leather still apply.


The svelte, professional look of the leather band is the biggest plus for Pad & Quill's new line of Apple Watch bands. Although I can't directly compare it to Apple's Leather Loop and Classic Buckle options, on its own the Classic Apple Watch Band is sleek and nicely designed, with Pad & Quill's rustic brand of naturalism evident in everything from the pops of color emerging from the accessory's under-stitching to the unique tannery artisan signature tucked under each band.

Bottom Line
Like some third-party accessories before it, Pad & Quill's Classic Apple Watch Band is a great budget alternative to Apple's offerings of the same nature. While $89.95 for some is far from cheap, those looking for a genuine, durable, and professional-looking leather option for their Apple wearable -- and not wanting to risk buying cheaper knock-offs -- probably won't be able to find a better alternative than Pad & Quill.
The accessory company, known for its naturalistic leather-made iPhone, iPad, and MacBook accessories, also introduced a line of Apple Watch products around the launch of the device back in April.
Pros
Attractive design
$89 price tag
Multiple color and finish options
Available in both 38mm and 42mm sizes
Eventually, quite comfortable
Cons
Days-long break-in period
Unsuitable for workouts
How to Buy
The Classic Apple Watch Band is available for pre-order today on Pad & Quill's official website in Galloper Black, Whiskey, Chocolate, and British Tan. The company is aiming for a mid-September shipping date for the first round of pre-orders.