First introduced in watchOS 3.2, Theater Mode is a simple but useful feature that's designed to prevent the Apple Watch's screen from activating when you raise your wrist.
It's useful in situations where the bright screen can be a distraction, such as a movie or a play, and it's also useful for those who like to sleep with their Apple Watches.
Activating Theater Mode
Theater Mode is available as an option in the Apple Watch Control Center, so toggling it on and off is simple.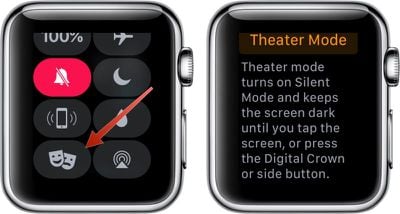 Raise your wrist to activate the Apple Watch screen or press the Digital Crown.
Swipe up from the bottom of the Apple Watch to bring up Control Center.
Swipe up again to access the icon that looks like a pair of theater masks.
Tap the masks.
A screen will pop up explaining theater mode. Tap again to activate it.
While Theater Mode is active, you'll see an the icon at the top of the Apple Watch whenever you view the screen. To turn it off, open up the Control Center again and tap the Theater Mode button.

How Theater Mode Works
When Theater Mode is enabled, the screen will remain dark when you raise your wrist instead of lighting up. It will also stay dark when a notification is received, but you'll still know if you get an incoming text or other alert because haptic feedback remains on.

Accessing Notifications While Theater Mode is On
You'll continue to get a tap whenever there's an incoming notification when Theater Mode is turned on, and to view it, you'll need to press the Digital Crown or tap on the screen.
Tapping, pressing the Digital Crown, or pressing the side button is also how you check the time when Theater Mode is enabled.