Since 2014, Apple has included a little-known feature in iOS called Live Listen that allows an iPhone or iPad to serve as a remote microphone for an MFI-compatible hearing aid.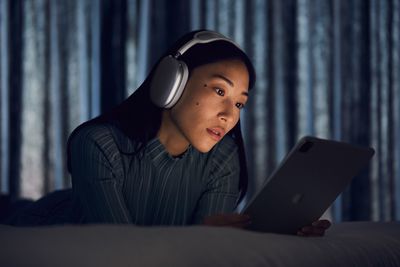 In iOS 14 and later, Live Listen supports AirPods Max, Apple's premium luxury headphones, making it possible to use your iOS device as a directional mic and have the audio it picks up relayed to your ears.
As an accessibility feature, the idea behind Live Listen is for it to be used by people who are hard of hearing or need extra help separating voices in a loud environment, but it can be useful in other ways, too.
For example, you could use your ‌‌iPhone‌‌‌ as a makeshift baby monitor for when the baby's napping and you're working or relaxing in another room. All you'd need to do is put the ‌iPhone‌ near the baby's crib and make sure you wear your AirPod Max headphones‌, which should have a strong enough Bluetooth range to allow you to listen in from afar.
Live Listen will work even when other audio is being played on your ‌‌iPhone‌‌ or ‌‌iPad‌‌ – so you could listen to a podcast, say, and still be keeping tabs on the baby. Just note that whatever it is that you're listening to will switch to mono output to match the Live Listen stream.
Live Listen is easy to set up and use once you know how. The following steps show you how it's done on an ‌‌iPhone‌‌ or ‌‌iPad‌‌ running iOS 14 or later.

How to Set Up Live Listen on iPhone and iPad
Launch the Settings app on your ‌iPhone‌ or ‌iPad‌.
Tap Control Center.
Scroll down and tap the green plus (+) button next to Hearing.
How to Use Live Listen on iPhone and iPad
Put your ‌AirPods Max‌ headphones on and make sure they're connected to your ‌iPhone‌ or ‌iPad‌.
Launch Control Center on your iOS device: On an ‌iPad‌ with a Home button, double-tap the Home button; on ‌iPhone‌ 8 or earlier, swipe up from the bottom of the screen; and on a 2018 iPad Pro or ‌iPhone‌ XR/X/XS/XS Max or later, swipe down from the upper right of the screen.
Tap the Hearing icon.
Tap Live Listen.


Place your ‌iPhone‌ or ‌iPad‌ close to the person you want to hear, preferably in front of them.
If the output to your ‌AirPods Max‌ is too quiet or too loud, use the Digital Crown on the right ear cup to adjust the volume level.
If you see the message "Unavailable for current route" when you try to turn on Live Listen, restarting your iOS device and then forgetting and re-connecting your ‌AirPods Max‌ from the Settings app's Bluetooth menu should fix the issue.