There are a lot of little small tweaks and feature changes buried in iOS 11, and an option for a one-handed keyboard is one of them. With the one-handed keyboard, the entire on-screen keyboard can be shifted to either the left or the right so you can type more comfortably with a single hand even with a phone as large as the iPhone 7 Plus.
The feature is compatible with 4.7-inch and 5.5-inch iPhones, although it appears it may not work on 4.7-inch iPhones if display zoom has been turned on.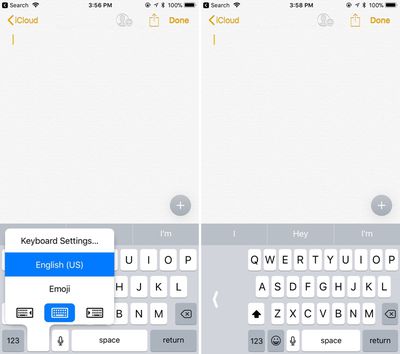 Once you know the feature is available it's easy to get to and activate, as long as you have multiple keyboards turned on in Settings. Here's how:
With the keyboard open, long press on the globe or the emoji symbol if you have the emoji keyboard activated. A simple tap won't work because this brings up emoji or other keyboard options.
At the bottom of the display, there are three keyboard options: shifted left, centered, and shifted right. Choose right or left to pick one of the one-handed keyboards.
With the one-handed keyboard enabled, the keys are shifted to the left or right by about an inch on the iPhone 7 Plus. The keys remain off-center for as long as you're using the keyboard, unless you tap the large white arrow.
Tapping on that arrow returns the keyboard to its standard center position, and you'll need to repeat the above steps to get it to shift over again.


If you don't have multiple keyboards set up, you'll need to either turn on another keyboard by navigating to the Keyboards option within the General section of your Settings app or manually turn on one-handed keyboard to the left or right on that same page.