If the screen of your iPhone or iPad is too bright for comfort, the usual solution is to go to Settings -> Display & Brightness and drag the Brightness slider to the left, or open Control Center and adjust the corresponding setting from there.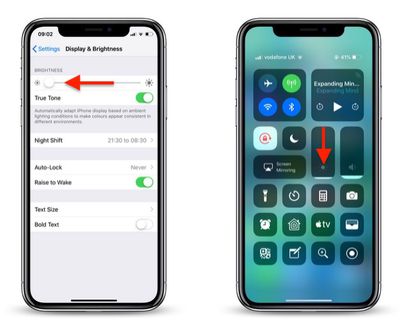 However, if the lowest setting offered by the Brightness level just isn't dim enough for you, there are a couple of ways to make your screen even darker. One method we've covered previously is to adjust white point using the Accessibility Shortcut. Another way is to enable a low light filter, which you can do by following the steps below.

Launch the Settings app on your iOS device.
Tap General.
Tap Accessibility.


Tap Zoom.
Tap Zoom Region.


Select Full Screen Zoom and return to the main Zoom menu.
Tap Zoom Filter.
Select Low Light and return to the main Zoom menu.


Now, turn on Zoom by toggling the switch at the top of the Zoom menu.
Double-tap the screen with three fingers to zoom out to fullscreen.


Your device's display brightness should now be extra dim. Note that you can disable the low light filter at any time: Simply triple-tap the screen with three fingers, tap Choose Filter from the overlay panel and then select None.